Welcome to one of the first lessons in the 2 Peas Classroom series. Big, big thanks go to Jami for organizing what has turned in to a massive commitment for her. Yay, Jami!
I have had the idea for this thread in my head for a while now, especially after some posts in recent months in which people were agonizing over their SOOC (Straight Out Of Camera) images. On the Before/After threads so many people always say they are reassured or surprised at what other people's SOOC's look like, which tells me that SOOC's are like some big secret that everyone is afraid to show anyone. And with so many people getting new cameras at this time of year and others resolving to learn manual or how to PP their photos, I thought this might be a good topic for discussion. And it is an excellent place to start out the Photo Peas Classroom series, because if you do not start with a solid SOOC, you will just be fighting it every step of the way, and that is frustrating. Trust me, BTDT!
Side note: I use a lot of acronyms when I type (trying to save my hands!) and several of you asked what they meant. So here is a list of most of the ones I use:
SOOC - straight out of camera
ACR - Adobe Camera RAW
PS - Photoshop
LR - Lightroom
DOF - Depth of Field
SS - shutter speed
Ap - aperture
OOF - out of focus
PP'ing - post processing
WB - white balance
ETTR - expose to the right
If you spend any time on a photography message board, you will hear over and over about "getting it correct SOOC." It is drilled in to us. But an explanation of what "correct" really means rarely takes place. If you do not know what a correct SOOC looks like, how can you produce one? The hesitancy to show unedited work doesn't help - yes, it does feel a bit like walking in to a room full of people in just your underwear, LOL, but I think a dialogue about what constitutes a good foundation for further editing is really critical. And you cannot do that unless you are willing to show them.
But, this is not a lesson that is going to show you exactly what your SOOC
must
look like. Because what is right for one person may not be right for another person. I know what I need in a SOOC for the way I shoot and process (and that's what I will to show you here), but it might not be what is correct for someone else's process. So I would welcome (I am begging!) for others to please show their SOOC's and tell us what THEY require (and why) as a good foundation upon which to start their processing.
Anyway, for me, three key things play in to it:
-Whether you shoot RAW or jpeg
-What kind of lighting you are shooting in and the requirements for different situations
-How you process your images
**Note: Let me say here that my overall method is to take my SOOC in to ACR, do a few minor tweaks to get a good base image - so the brights are not too bright, the darks are not too dark, not much contrast, etc - and then open it in CS4 and do all my processing there. This is different from someone whose workflow includes doing the major edits in ACR or LR and only minor edits in PS. But regardless of how you continue on, everyone needs a good foundation upon which to build, whether it's mostly done in ACR/LR or mostly in PS.
I shoot RAW, so I do not expect my SOOC's to come out looking fabulous. They look, in fact, a bit drab and dull, and I want them that way! If I shot jpeg, my SOOC's would look totally different. In fact, they would initially look more correct than my SOOC RAW images do, because they have already been processed in the camera.
**Inserting my humble, personal opinion here on RAW vs. Jpeg - you are welcome to skip this part!
I personally think that shooting jpeg is more challenging if you are a beginner or semi-beginner, because there is more pressure on you to absolutely NAIL every single aspect of the photograph when you are shooting - the exposure has to be darn-near perfect, the WB needs to be really accurate, there cannot be any significant color casts, the dynamic range cannot be too huge, etc, etc, etc, because your ability to manipulate these things in post processing is more limited with a jpeg image than a RAW image. And being a beginner means that you just are not going to nail all those things right from the start, and thus editing to correct those issues in PP'ing becomes frustrating. But let me emphasize...I ALWAYS, DEFINITELY, WILL FOREVER agree that you should continually learn and STRIVE to get ALL of those things correct
when you are shooting
, regardless of whether you shoot RAW or jpeg - either way your job will be much easier if you do get them all correct. But I think we all know that getting ALL of that correct ALL THE TIME when you are learning is challenging. And, more importantly, working with a RAW image forces you to really, really learn how your metering affects your exposure, how your WB choices affect the color, how objects create color casts....on and on and on...because you are able to see EXACTLY what you shot when you look at your RAW image (IOW, how the choices YOU made resulted in your image) as opposed to seeing what the image looks like after the camera added a bunch of what is, essentially, "editing", which does not give you a realistic view of your decisions when you were shooting. Does that make sense? OK, end of rampantly personal opinion......
So anyway, because I know that as much as I like to eventually push color, contrast and the depth of my colors/lights/darks later, I absolutely CANNOT start out with a bright photo. If I do, I will end up with a hot mess (both literally and figuratively, LOL) and it will not end up as a well-processed photo. Underexposure is bad, but overexposure is a KILLER. With my previous camera (Nikon D200) I really had to ETTR (Expose To The Right) to capture as much dynamic range as possible (working to get my histogram very close to but not touching the right side...unless there were acceptable blown areas, like sky peaking through leaves, etc.) But my camera now (Nikon D700) has an in-camera meter that is a bit more sensitive. It has been over a year, and I am STILL refining how I expose SOOC. Yes, I still ETTR, but since I am not afraid to crank up the ISO, I sometimes find that I shoot brighter than I need to. So, it is imperative to know your camera, and continually work to perfect your metering/exposure.
Now, having said that, I have to tell you that working on this lesson has actually been a huge eye-opener for me, and I have learned a lot by being forced to really analyze my own SOOC shots. Why? Well, as I said above, I bring my RAW images in to ACR - I always have. For the most part, I have had ACR set to put most of the sliders at -0- when I start. However, I left the brightness and contrast sliders at their default settings (+50 and +25, respectively). This was left over from my days as a newbie, when I did not really have a plan for anything and did not really know what I was doing. So, for this lesson, I totally zeroed out every slider, and I was SHOCKED at what my SOOC's actually looked like! What I have been thinking all along was a SOOC was actually an image that had some brightness/contrast added to it. So, when I first viewed an image with all the ACR sliders at -0-, it looked wrong (underexposed) to me. But the more I analyzed the information in the histogram, I saw that it actually was a correctly exposed image. I'll show you below what I am talking about. Realizing this has actually changed (just in the last few days) the way I get an image ready to process, and will solve some issues I have been having during post-processing. Once again, it was proven to me that you always keep learning, no matter where you are on the journey. And it is a lesson for those who do not feel comfortable teaching others....you LEARN so much by TEACHING! OK, enough random babbling.....
First, I want to show you the fully-edited image, because you are going to be surprised (I think) about where it started vs. where it ended up. This is really just a snapshot over the Christmas vacation, and my DD was being a total goof (she thought it was hilarious to squish herself in a bag and be a "present." She fell back on to the floor and laughed and laughed. I have to admit...it was pretty funny, LOL). But the light was great at my brother's house, which is such a pleasure for me, because I live in a cave.
Final image (Dratted 2P's - you'll have to use the scroll bar at the bottom of this post to see the whole thing, although I think you can see most of the important parts without doing that):
Now...here is where it gets interesting, LOL. Here is the RAW image, straight out of ACR with all sliders zeroed out and the WB left as shot:
Yikes, right? It looks underexposed, doesn't it? Part of that is because the AWB was not quite correct (it is too blue, but obviously I was not going to take the time to do a CWB during gift-opening on Christmas day). But here is the same image zoomed in with the ACR histogram and sliders showing:
So, if I were to look at just the image itself, I would think I had seriously messed up when I metered, because we are all so accustomed to looking at bright images. But, if you look at the histogram (pink arrow) you can see that it does indeed get very close to the right side, but does not climb up it. There are no blown highlights on this image, and there should not be. However, if I had metered this to look any brighter, it would, in fact, be incorrect (i.e. overexposed). In addition, there is also no significant space between where the histogram ends and the right side. If there was a gap, then I would have still had some wiggle room to capture more information in the highlights, and the image would truly be what we call underexposed.
So, now I make a few small (but meaningful) adjustments in ACR, and this is what it looks like:
You can see that I warmed it up a little and changed a few other things, but the histogram is still good - close to the right side, but not clipping any highlights (green arrow). Warming up the WB made a huge difference in how it looked, and although it is brighter, it is not too bright to continue on with my normal editing. As I edit, I will continually make sure I do not blow highlights (especially on her nose) or clip blacks (in the shadowed areas of her hair - even though it looks here like those areas are completely black, there is detail in all of the shadows).
So, again, here is the before and after:
Here is another indoor image. To be honest, this one is underexposed (although not intentionally - she was moving around a lot and I just did not meter perfectly for this one). Here is the RAW image with all sliders zeroed out and no adjustments to WB:
Here is the histogram that corresponds to the above image - note the purple arrow, which shows the slight gap between the end of the histogram and the right edge, which tells me for sure it is underexposed:
Here is the image with some slight ACR adjustments:
And here are the histogram/ACR adjustments I made to it. Just like the first photograph I showed above, there should not be anything in this one that is blown, so I watch my histogram for that. Now, it goes further to the right but again, does not climb up the side (orange arrow):
And here is the final image:
Next up is an outdoor image. For this one I was able to use a reflector, as my DH was home, and he reluctantly, er, cheerfully helped out.
The RAW image, zeroed out in ACR (I promise the circles under her eyes aren't this noticeable in real life - she had two sleepovers this weekend and I don't think a decent bedtime was a really enforced, LOL):
The ACR information on the zeroed-out image. Same situation here - although it looks dull and underexposed, I could not have raised the exposure any more when I shot it because then parts of her face and fingers would have been blown (ETA: Oops, I just realized that the exposure accidentally got bumped +5 on this one - it was supposed to be at -0-):
Here is the image out of ACR with some minor adjustments:
And here is the ACR info for that one:
And here is the final image, fully processed: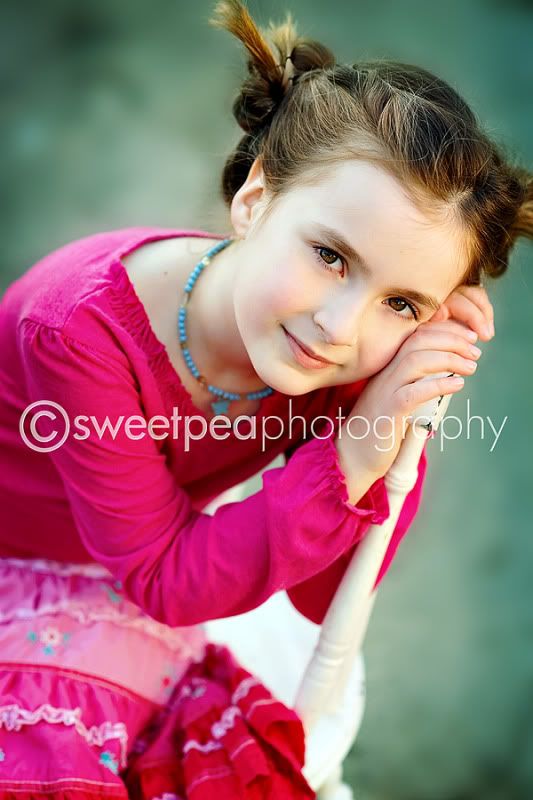 A fun side-by-side comparison:
Lastly, I want to show you an outdoor image with backlighting. This is not really the place to delve in to a lengthy discussion of how to shoot backlighting, but remember above when I said you needed to know what kind of lighting you are using and what you will require when you process the image? Backlighting is the perfect example of this. Two things happen when I shoot backlighting - I disregard some small blown areas (the rim or halo around the subject, especially in some of the hair) which are naturally going to be overexposed, and I intentionally underexpose the face a bit so I can preserve more of the highlights elsewhere in the photo. If I exposed only for the face with backlighting, so much else in the photo would be completely blown that I would have problems. In particular here, the grass would have gone nuclear, so I was especially trying to preserve detail there. (Note: this would have been a much better SOOC photo if I had been able to use a reflector. But I do not have an assistant and the mom had her hands full keeping the little sister occupied on this hot, humid, sticky day. So, this was how I chose to shoot it).
Here is the final image after post processing:
Here is the RAW image (no adjustments):
Here is the ACR info and histogram for the zeroed-out image - you can see that now there IS some information climbing up the right side. But I am aware of what/where those areas are. When I shot this I looked to see how much was blowing out and found that amount and their placement to be acceptable.
I used more of the sliders now in ACR to adjust this so I have a good place to start my processing. The recovery slider was particularly helpful in keeping the grass from blowing as I made these adjustments (grass goes nuclear FAST):
Here is that information:
And again, the final image:
So, here are my thoughts summed up:
-Analyze how you shoot (jpeg or RAW), the setting/lighting in which you are shooting and how you process your images (just a few adjustments? Lots of changes to the original?) to become familiar with what YOUR SOOC images should look like.
-Histograms are important! Sometimes it is hard to tell just by looking at a SOOC if it is correct, so you will need to be able to look at a histogram and know what it is telling you about your image.
-WB has a huge impact on where your image starts out. Just like exposure, get it correct before you start editing (either by doing a CWB if possible or adjusting in ACR/LR...or both) and you will save yourself a ton of headaches.
-Most importantly - do not skip over the SOOC because you are eager to get to the fun stuff like curves or saturation because you want your photo to "pop." If you'll pay attention to what you START with, you will be happier with what you END UP with.
And thanks again, to Jami!
Anne
**************************************************************************************
I'm adding some new info or answering some of the questions that were asked in later posts here so that all the information is not so spread out.
Can you process RAW images in PSE?: I will quote Jami's excellent answer to that:
---

And ACR is a free download from the Adobe website. Just do a Google search for Adobe Camera Raw for PSE and then whatever version you have, and you should be able to find the download.

Then after you have downloaded that, when you go into PSE and you open a RAW picture, it will first open up in ACR where you can do the tweaking and then you will click "Open Image" and it will bring it into PSE for the rest of your editing.

---
Some of you mentioned that you were moving too many sliders in ACR - I want to reiterate that my method for what I do in ACR is to get an image that is "neutral" - bland, actually, because I want to do all the other stuff in PS. But many people use all (or many) of the sliders in ACR (or LR) to do a good bit of their editing at this early stage. It all just depends on how you've chosen to edit. Just always keep an eye on the histogram and watch out for clipping/blowouts.
Are RAW files noisier? This is a common "complaint" when people start shooting RAW. The answer is that no, they're not any noisier than a jpeg...
before the jpeg has had the in-camera noise reduction applied to it.
But you never see the jpeg that hasn't already had noise reduction applied to it. So yes, RAW images LOOK noisier than jpegs. Some brands/models of cameras handle noise very well (D700 for instance), so the noise is less noticeable. But I do use Noiseware to deal with the noise that does show up.
Chell mentioned focus, which I totally neglected to discuss (although there's going to a later class that is all about focus exclusively). Your image needs to be in focus SOOC, regardless of whether you shoot RAW or jpeg. But the same thing applies - jpegs will have some sharpening applied to them in-camera, so they will initially "look" sharper." Sharpening techniques are really great and, if well-applied, really can be helpful. And I don't get so twisted up about focus now as I used to (meaning that I don't trash an image SIMPLY because Every. Single. Eyelash. isn't blade-sharp). But the reality exists - if you just plain missed focus in your SOOC by a wide margin, you can't get it back when you edit. Again, that's one of those things that you should really try to NAIL on a consistent basis when you're shooting, so your job is easier when you are editing, and your images are the best they can be.
And I want to reiterate that you should ask yourself how you want to go about this whole process - what "correct" means for you. For me, a "correct" SOOC image does not mean "ready to show my friends and family." It means "a solid, clean foundation upon which to do my major edits."
HERE
is a tutorial that Molly (go Molly!) previously posted that goes in to some depth about histograms/LR and the red channel.
Anne
I use a lot of acronyms when I type (trying to save my hand!) So here is a list of most of the ones I use:
SOOC - straight out of camera
ACR - Adobe Camera RAW
PS - Photoshop
LR - Lightroom
DOF - Depth of Field
SS - shutter speed
Ap - aperture
OOF - out of focus
PP'ing - post processing
WB - white balance
ETTR - expose to the right