Do you ever go through those little lulls in life where you wonder if you're really any good at anything? Or you start to think
maybe I can do this
, then hit a bump in the road and it kills your spirit? OK, that's my life. My husband always jokes with me that I know a little bit about a lot of stuff.
Got a basic physics question, I can probably answer it. But I'm not a rocket scientist.
Want to learn how to cook? I might be able to help, but I'm not a chef.
Need some decorating help? My friends call me for that all the time. But an interior designer I am not.
Need to get organized? Now THAT I can do!!! I'm very organized. I have tried various methods for organizing various things and I have methods that work. And, lucky you, I'm going to share with you all about my photo organizing workflow and a little bit of what I do as my very basic workflow when I edit photos (as well as sharpening), and then how I save and organize my photos.
And, just so you know, I have Photoshop CS2, I shoot in RAW always, and my first step in editing is with Adobe Camera Raw (ACR). I don't have Lightroom, though I tried it once. I've never used Photoshop Elements. And I hate iPhoto (don't shoot me, but I think it's nothing but confusing as far as organizing photos.) It does have its place, though. But regardless of what program you use to edit or what format you use to capture digital photographs, much, if not all of this, will apply to you. You just may need to modify a bit to work for you.
So, first things first. I upload all of my photos to my computer using a card reader. It doesn't drain the camera battery that way. I'll explain a little bit later about how I set up folders on my computer, but for now, to keep things simple, all my photos go into a folder on my computer called "Originals" and they're filed by date. Originals are just that. Nothing more, nothing less. They are the digital negative. Whatever you do to your photos in editing them, NEVER replace your original. The minute you overwrite your original, you'll never get it back. Your editing style will change over time. You may absolutely LOVE an edit you do to a photo today, and a year from now decide that you want to re-edit your absolute most favorite picture of all time with your much more fine-tuned editing style. You won't be able to if you don't have the negative anymore. So just don't do it. Second thing to know... back-up, back-up, back-up. If I'm doing a photo shoot for someone else (which is rare for me, but I do occasionally do them for friends) I immediately burn those originals to a CD or DVD. I don't do that with my own pictures, but I do back them up. It's just a few steps later in my workflow. So, for now, let's just pretend I don't take photos for anyone else and I'm just working with only my pictures of my kids.
OK, so the pictures are uploaded from the card to a folder on my computer called "Originals." I then open up Bridge. If I was a Lightroom user, I'd open that now. I start at the first photo in the set and I View > Slideshow (Command L). This step is like the rough draft. They aren't high resolution photos in the slide show, but you can certainly get a good idea of what's good and what isn't. By pressing the Delete key while viewing a photo it will automatically move it to the trash. I do this to anything that is out of focus or anything where the exposure is WAY off, and editing would be a waste of my time. There are exceptions. I'm a mom and sometimes those out of focus photos just speak volumes about my kids, and I don't trash those. You know the ones that you look at say "That's just so her!" Also, during the slide show, I rate my photos. Typing "5" while viewing a photo will rate it with 5 stars, a "4", four stars, and so on. I give a 5 to my absolute favorite photos. The ones I just can't wait to edit. I give a 4 to the ones I really like, and a 3 to the ones I maybe want to edit. Three is as low as I go. A "2" to me probably should have been deleted.
When I've gone through them all, I may, at this point, assign Keywords. I don't do it all the time. But I do it especially when I want to be able to easily find something. For instance, Anna's preschool graduation. A month later (heck, maybe even a week later) I probably won't remember exactly the date of her graduation. But Grandma calls and wants me to send her a copy of the photo she just saw on my blog. Rather than having to sort through all the photos I took the last week of May, I can find it with just a few clicks if I assigned keywords to it in the very beginning. (Of course, you can always go back and assign keywords at any time.) Bridge comes with some default keywords already there, but you can edit those, add some, whatever you need to personalize it to fit your needs. Here, I changed all the names in the People set to be my own kids' names. And for me, this set is just my kids. I have another set called "Friends" where I put in the family name for the friends I've taken pictures for.
To add a new keyword, first click on the category. It will highlight the entire set. Click to add a new keyword then type it into the box. If you want to add a whole new keyword set, click on that icon. If you want to delete one of the default keywords, highlight the one you want to delete then click on the icon with the trash can.
To tag photos in your set with a keyword (and you can add more than one keyword to a photo) select all your photos that you want to tag, then click on the keyword you want to tag them with. Here (and I'm sorry it's so small) I selected all the photos of Gus then clicked on Gus' name to the left. A dialog box pops up. Click OK to assign your selected keyword to the photos you've selected.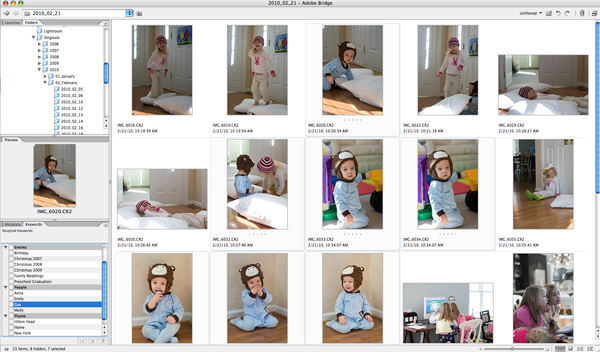 And this is where it all comes together. Let's say a month from now I want to quickly find all the photos I took of Gus on February 21st. I go to Edit > Find. I select the folder I want to search and what keyword I want to search. Click OK and it will pull up all of those photos in a new window. Obviously, this is SUPER basic, but it's the idea. You can change all kinds of criteria when searching.
OK, so let's select a photo I want to edit. One of Gus, relatively good focus. Technically, it's not perfect, but I don't care about that for this. And, don't ask me why, but apparently Molly decided that she and Gus need to wear their hats in the house that morning. Double clicking on the photo in Bridge will open the photo in ACR. There are a bunch of threads about the advantage of shooting in RAW. I won't beat a dead horse. But here, in ACR I can make adjustments to the exposure if it's off, white balance, if I need to, adjustments to sharpness, contrast, even calibration of specific color channels. Personally, I prefer to do the majority of my editing in PS, rather than ACR. That may change one day if I ever get Lightroom, but right now, what I do in ACR for the most part is correct exposure and white balance. I'm also on the band wagon with those who zero everything out before opening in PS. So, I make those adjustments, and here's what I'm working with.
I brighten it up with curves and run a color boost action on it that I've tweaked to my liking. With all that color, how can you NOT pop it?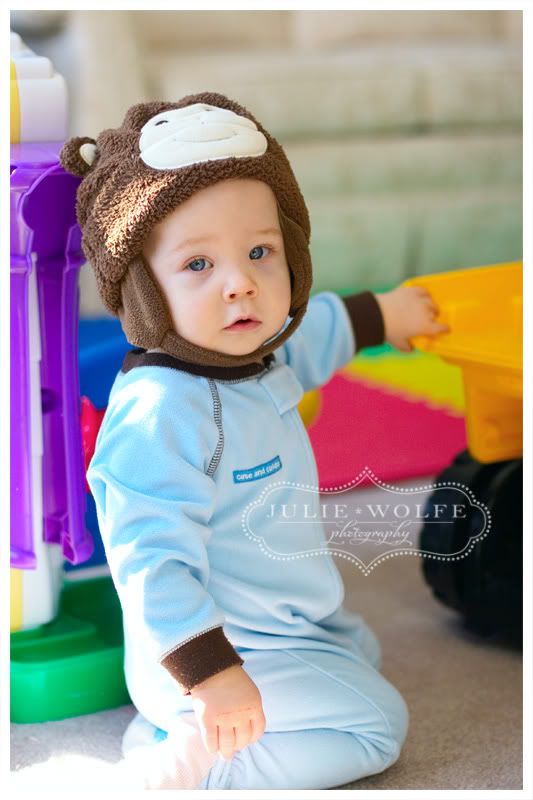 One of the last steps I like to do before sharpening is to stamp all the layers onto one layer at the top then using the burn tool with a really large brush, I burn the shadows at 5% by brushing once all over the photo. It just adds a little depth.
At this point, having all of my layers in tact, and my background layer untouched, I save the post-processed image into a folder that is dedicated specifically to post processed, .psd files. Don't just click "Save" or it will overwrite your negative file in your originals folder. Be sure to "Save-As." This saved image is UN-CROPPED and UN-SHARPENED! That's important to note. I don't crop it b/c I don't know at what crop ratio I may want to print it. More importantly, if you're editing for clients, you don't know what they will order. You may show them a proof at one crop ratio and they choose to order in a different ratio. If you've cropped before saving, you may have a lot of work on your hands if you need, say, a 5x7 instead of the 8x10 you presented. And, I don't sharpen at this point b/c the sharpening I want to apply will depend on if I'm sharpening for print, or web. Also, if applicable, I don't apply a vignette yet, either. One more thing... Keep that background layer in tact and here's why. If I make a mistake in editing directly to a layer, one that isn't an adjustment layer, I've changed the pixels on that layer. If I do that on a background layer, I may not be able to go back and fix it. I always duplicate the background layer before I do any cloning, dodging or burning, or anything that makes permanent changes to the pixels of the image. If I mess up, I can delete that layer and start over.
OK, so the edited photo is saved as a .psd file in a post-processed folder. From here, it depends on what I want to do with the photo. Most often, for me, it's getting published to the web (on here, on my blog - which hasn't happened in forever, LOL). So, I take that same file, and first crop it if needed. Then I re-size it to 800 px on the longest side if it's going on my blog, 600 px if it's to post here. I add a vignette if I want, flatten, then sharpen.
Ahhhh, sharpening. Seems to be a source of frustration for many, especially those just starting out. What is Unsharp Mask and how do I use it to make my photos look sharp, but natural? This is, hands down,
the best tutorial
I have ever read on using Unsharp Mask. I used to follow the suggestions in Scott Kelby's book until I read that tutorial. It changed the way I apply the USM filter to my photos forever! Here's the quick run down, but definitely take the time to read through that link. USM works by looking for areas (edges) of contrast in your photos and applying a dark line along the dark edge and a light line along the light edge. There are three factors that control the intensity of those lines... the amount, the radius, and the threshold. The radius controls how wide those dark and light lines are when applied, in terms of pixels. For web viewing, the author recommends 0.3 pixels, and for print, between 0.3 and 0.5 pixels (more for canvas). The threshold control allows you to dictate how different two pixels need to be when considering the difference between light and dark in the image in order for Photoshop to apply the sharpening. The author recommends this number to be somewhere between 3 and 20, but most often 5-10. The last control is the amount. Basically, how strong or how subtle do you want your sharpening lines to be. He suggests starting between 250% and 300%. Personally I tend to prefer something around 150-250%.
Here's a 100% crop of my image unsharpened.
Here's the same crop, only this time I applied USM with the following numbers: 200% | 0.3 | 5.
And here's how I used to sharpen, based Kelby's suggested numbers. I used 85% | 3 | 2.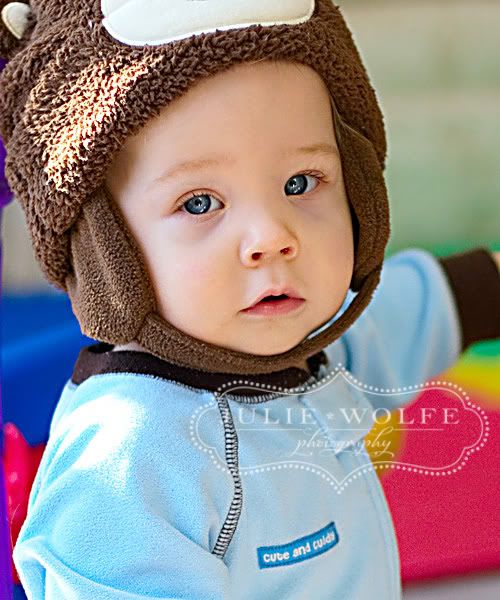 Notice how subtle but sharp my second photo is. And the last one is over-sharpened. Look at the halo that forms, especially in areas of high contrast. It's most noticeable along the edge of his hat, but you can see it along his lash lines and his lips, too.
One more little thing about sharpening. I recently pointed this out on
another tutorial,
but I will add it again here, too. I always apply my sharpening to a duplicate layer. Just duplicate my background layer after I've flattened it (or stamped it.) The reason I do this is I can apply a layer mask to that layer and using a soft, black brush I can erase back any areas that are just too strong without having to decrease the overall sharpening that may look great everywhere else. Most often, I have to do this where there are little fly-away hairs or on black and white photos where there's such a strong contrast between subject and background.
This, then is my final image, sharpened for web.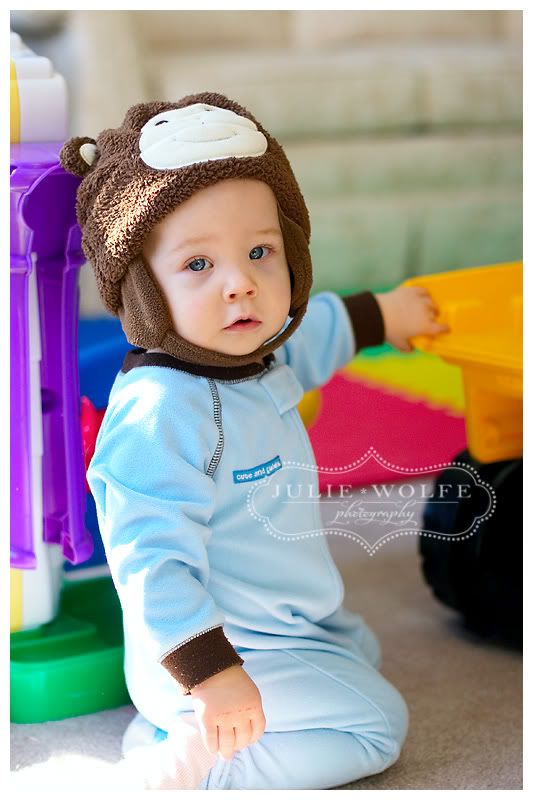 That photo then gets saved to yet another folder. Get ready for it...
Are you bored yet? LOL The last thing I'm going to address, which I eluded to, is keeping those files organized. There's a folder on my computer called "Pictures." EVERYTHING falls under there in one form or another. Within that folder, is my subfolder called "Originals." Within that one is a folder for each year, within each year, a folder for each month, and within each month, a folder that contains all the photos taken on each date. Sorry this might be hard to read.
Those are all the organized, untouched, digital negatives. When I process a photo it goes into "Post Processed" which is within the "Pictures" folder. Within the "Post Processed" folder I have a folder for each of my kids, and within each of those, one for each year, then one for each month, if it's necessary. There's a few other categories as well. Like one called "Family." I just add them in when I need them, when the photos don't fall into a category already there. Also within the "Pictures" folder are folders for my blog photos, since they're sized at 800 px wide, which is different than other "Resized for Web" photos that I typically size at 600 px wide. I also like keeping my blog photos separate, for the elusive "one day" that I get around to making a blog book. And I have one called "WHCC". Since that's the only lab I use at this point, anything that I print is cropped, sized, flattened, and saved into a subfolder within that folder as a .jpg ready to be ordered through the ROES software. Since the software only allows you to pull .jpg files from a folder, I've found it to be the easiest way to keep them all in one place, rather than having to search through different folders for the files I want to print. You'll also notice a folder called "Clients." That's where I put all of my post-processed .psd files as well as flattened, web-sized jpgs of all the photos I've taken for friends.
And what about that back-up? I try once a month to drag and drop all of the originals, edits, and web-sized photo files for the month onto my EHD. I also create a burn folder of the same files and burn to HIGH quality gold DVD's as my second back-up. But, by golly, it's a pain in my rear, I hate doing it, and I'm not all that good at remembering to do it. One of these days I'm going to find and invest in some good back-up software that does it all for me on a regular basis. "One day..."