1.Who are you? Please include self portrait and any links to other sites featuring you, like your blog, website, etc. Pimp yourself out!!
Hello Friends! My name is Heather Ward and I am a Natural Light Portrait & Wedding Photographer from Calgary, Alberta Canada (eh?). I just turned 30, I'm married, have two kids, come from a large family, and have the best girlfriends on the face of the earth! Photography is something I'm passionate about, and it's provided me with a fairly successful business, so when you throw that onto all of the other blessings I have in my life - I'd say I have nothing to complain about!
Here is where you can find me online:
My Website
(needs an update)
My Blog - updated regularly
Photographer Tools
Twitter
Facebook
and most recently
FormSpring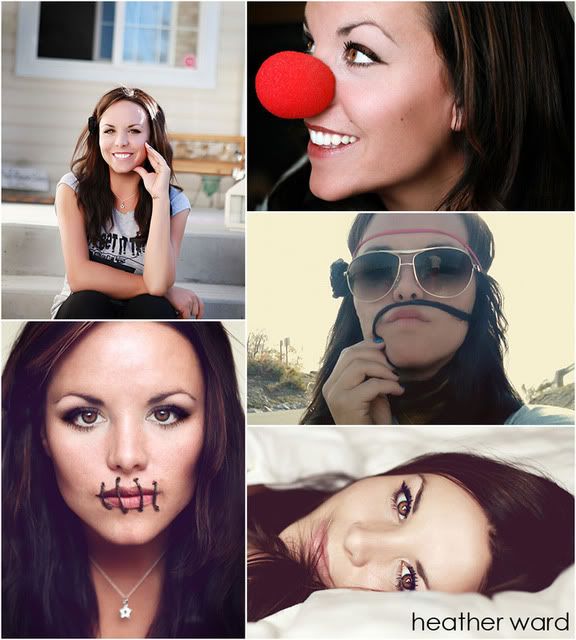 2.What inspired you to get into photography? And when?
I've had a camera attached to my hand since I was about 15 but I never saw it as an "artistic interest". It wasn't until my daughter was born just over 7 years ago that I became passionate about it. I paid an obscene amount of money for a photographer to come over and take photos of her at 3 months of age. Not only was every shot exactly the same, and lacking creativity but I wasn't allowed to be in any of them. It was at that point that I became a bit obsessed with capturing the perfect photo - those in between moments that meant the world to me. From there it blossomed into favors for friends, and eventually my business. I guess you could say it took on a life of it's own.
3. What is your education? Degree? Self-taught? Workshops?
Honestly I learned most of what I know about photography from this very board! There are so many talented, amazing, sharing peas out there...any question I had, they answered. I wanted to jump into shooting in manual right away, so after reading Understanding Exposure by Bryan Peterson and taking the tips from all of the wonderful peas, I made the leap and did everything else by trial & error. I eventually enrolled in the Professional Photography Program through the New York Institute of Photography, and though I found it helpful, I can honestly say it didn't teach me anything more valuable than what I had learned by reading books and exploring the board. So I would say the "education" that has gotten me to my skill level (and I use the word skill lightly
) - is reading, experimenting and practicing, Practicing, PRACTICING!
4. What kind of photographer would you describe yourself as?
I am a Natural Light Portrait Photographer. I do a little bit of everything, but it seems that my business has been taking a turn more towards weddings these days. I admit they scared the crap out of me at first, but they are my absolute favorite thing to shoot now and I find the challenge and diversity of them very exciting. As I mentioned, I use primarily natural light, except when shooting weddings where I use off camera flash during the receptions. But on top of all of that - I would also describe myself as a laid back, fun photographer. I really like to keep my sessions upbeat and chill, and I can honestly say that almost every one of my clients whether they be parents or brides & grooms become my friends! It's such a great job perk!
5. What kind of equipment do you use? Not every piece you own, but your favorites or use most often.
I shoot with the Canon 5D Mark II and I LOOOOVE it. I also carry a backup 5D. It's tough to list JUST my favorite lenses because I can't live without any of the ones I own. But, the lens I use most frequently is definitely my 50mm. I used to have the Canon but recently picked up the new Sigma. I was wary about going with a Sigma because I'd never owned one before, but after a lot of research I grabbed it and I DIG IT!!!!! It is a nice bulky lens with TAC sharp focus. Definitely my favorite! I also adore my 24-70 2.8L lens because I can use it to shoot anything and everything. It's the perfect walk-about lens and is sharp enough for any session.
6. What did/do you struggle with the most
Currently, artificial lighting is a bit tough for me. I've been starting to move into the off camera flash at my wedding receptions to attempt to grab that nice soft candle-looking light, but it's tough. The more I use it though, the better I get. It's still a work in progress for me. I also really struggle with young teenagers. I find it hard to get them to open up and trust me enough to really be themselves in front of the camera. I don't know I'll ever master that one. It's a tough age to work with I find.
7. What was your biggest "A-ha" moment? Can be something technical/camera-related, something personal as it relates to photography, or something you learned about yourself as a photographer.
I think my BIG a-ha moment was when I finally felt like I had mastered shooting wide open (if you can ever truly master it) with great exposure and sharp focus. It was my goal from the minute I started shooting in manual, and though it took me awhile to understand the relationship between everything (lighting, DOF, distance from the subject, etc)...now it's pretty much the only way I shoot! That's not to say I'm perfect at it...but I feel like I've gotten a handle on it and the day it all clicked for me was my big A-ha moment.
8. Biggest lesson learned? Can be either about photography, the business, yourself, etc.
Be yourself, embrace your own style, and don't conform to what you think your photos 'SHOULD'look like. Accept that photography is a never ending marathon with no finish line. There are always new things to learn and you should always try to be improving. And last but not least, don't be afraid to raise your prices. Never under value yourself as a photographer. The more you value yourself, the more others will value your work.
9. What's your greatest triumph or achievement? Could be just opening your own business, to awards, to a compliment.
I'd like to say that working consistently and making a comfortable living from what I love to do is my greatest achievement....but honestly my greatest achievement regarding photography is capturing photos that I LOVE of my own family. My walls are LINED with memories that I truly treasure. Each is a photograph that I look at and smile every single time I see it...and knowing that I, MYSELF captured those photographs is extremely fulfilling for me. The fact that I am able to do this for other families, couples, etc is just icing on the cake!
10. What is one of the most important mistakes you made that served as a basis for your progression?
UGH! I don't like mistakes and I hate admitting when I've made them even more.
Yes...I'm a wee bit stubborn and prideful. But...I'll admit to two that I thought were very valuable mistakes and I have definitely learned from them.
The first: Overbooking. I had a really hard time saying no to anyone because not only did I want the experience, but in the beginning my husband was a student and we needed the money. Eventually I began to dread some of my sessions because I was feeling over worked, which made it not so fun anymore. I also found that because I was working ALL the time, I was trying to burn through editing my sessions quickly, and I worried that the quality of my work would start to suffer. When I finally stepped back and started taking time for myself, and telling people that they would have to book ahead I began to enjoy what I did again. Plus, I made myself raise my prices at that same time. I figured if I was that busy - I could charge more and work less.
The Second: Backing Up. The WORST thing that ever happened to me photography-wise was losing a clients images. Luckily the client was a good friend of mine so having to offer a re-shoot wasn't the end of the world, but my backing up process immediately became one of the most important things I do, and do, and do over again.
11. What is it about photography that makes your heart sing and your mind race with possibilities?
Everything. There is definitely a little rush of adrenalin when you capture something and immediately know that it's a great shot! I love that feeling. Plus, I find that I view the world in an entirely different way now. It's like the blinders were taken off and suddenly there was a whole new world of beauty in dirty old buildings, the way the clouds formed, the wrinkles in people's skin, the way the grass blew, the lines in someone's mouth. Everything had this incredible detail and essence that I really wanted to explore and capture. The thought of taking something ugly, and putting it behind something beautiful is so exciting. Being able to capture beautiful moments that people will always treasure is fulfilling. All of those things just make me HAPPY!
Wow...I just read that back. CHEEEESY!
12. Which do you like better - taking the photo or processing it? Why?
That one is kind of a toss up for me. If it's a wedding - I LOVE the capturing. It's a rush and it's challenging and fun. And I always make a new friend and have such a blast being silly and sexy and creative with the bride & groom. With other sessions too; newborns, families, whatever...it's really fun to set up the shots and be able to be creative in the moment. So shooting is awesome...but getting it home onto the computer and being able to see what you'e achieved and then massaging it into the masterpiece you envisioned it to be is fabulous too! PLUS - I get to snack and listen to music or watch good tv while I process.
13. What inspires you? Could be anything - other photographers, nature, art, music, people, etc.
Everything inspires me. I'm definitely inspired by other photographers and checking their blogs can be very addicting and fun. But I'm also inspired by magazines, fashion, people, buildings, scenery, emotions, and just life in general. Sometimes you just never know where it's going to come from.
14. What is something about you that we don't know? Could be something serious or silly- your choice.
Hmmm...I must be really boring because this is a hard question for me. So I think what I'll do is something I did on my blog awhile back. I'll just copy and paste it.
1. My favorite band is Owl City
2. I have 4 siblings and we're like this (fingers crossed).
3. I am of Irish and Indian decent
4. I have 4 tattoos, and really want another one but I am trying hard to refrain.
5. I hate pigs and spiders. Mostly spiders though.
6. I have a strange obsession with high thread count sheets and smoothing out my bedding.
7. I am 5 feet 3 and a 1/4 inches tall (almost)
8. Before I was a photographer, I was an Insurance Broker.
9. I love to read (especially in the sunshine by a pool).
10. I often wonder if cell phones really cause Brain cancer.
11. I'm a Law & Order addict
12. I sing the wrong words to songs all the time.
13. My mother considered naming me Dusty.
14. I once had a pet fish that died. I buried him in my backyard and then dug him up a few months later to see if he was still there (he was, eeeew).
15. When my cousin Brooke and I get together, we car dance while we Blast Madonna and point the air vents into our hair so we can look the part.
16. I have Celiac (so no gluten for me, EVER).
17. I once spun into a wall and nearly knocked myself out while dancing to "I've Had the Time of My Life"from the Dirty Dancing soundtrack.
18. I still know all the words to "The Right Stuff" by New Kids on the Block. (I've tried to forget.) And there is a You tube video floating around of me dancing to that song as a kid. Yikes.
19. I could eat nothing but Popcorn for days.
20. I can't remember the last time I slept through the night.
21. I was raised by Super Woman.
22. I have the best group of girlfriends on the PLANET!
23. I love lulu lemon and American Apparel with all my heart.
24. I rarely wear socks. They annoy me.
25. I'm pretty sure I'm the funniest person on the planet, but I don't think anyone else agrees with me.
15. Can you share with us your loved ones? Especially if they have been featured in your work?
I do post these people occasionally on my blog, but here are some pix of my special people! Here are my special people (well some of them) From left; my family, me & my girlfriends, me with my siblings, and my sister & I.
And our naughty, but cute puppy Riley
16. Can you share your top tip/technique with us?
Levels is my favorite photoshop tool. It can brighten your photos and give them just the depth they need.
17. Who are you picking next and why?
Trina!! (TrinaRN). I'm picking her because she's awesome and I want to know more about her.
18. Will you share some of your favorite works with us!!
Since I'm lazy I'll just recommend that you jump on my
BLOG
because I post my favorites of my sessions there, but I'll also post a few recent shots here that I liked. Thanks for interviewing me! It's been fun!
Enjoy...
A recent vacation...
Cute little newborn
Session with a fellow Pea
E session with a recent bride
One from my sisters recent wedding
And some more from my most recent weddings that stuck out to me.