Disclaimer: I am not a teacher. I'm awkward, I forget things, and sometimes I'm not clear enough. If any of the above happens in the course of this lesson, just call me on it and I'll do my best to clarify or add things. For the awkward, just love me in spite of it.
I've been asked many, many times how I get the look I'm known for, so though I'm going to skim over everything I do, I'm going to give the bulk of my lesson to the actual processing, and converting to b/w. For uploading, tagging, metadata, etc., Barbie's tutorial has some excellent, efficient tips, and Julie's lesson was fantastic for getting organized.
I start in LR. I import all RAW files from my card reader, and set my flags to be able to hide/reject a file with the "x" key. I go through and reject all of the bad, duplicate pose, or oof images, ending with about 20-30 proofs for a client set. I zero everything out then make basic adjustments for exposure, white balance, etc. Sidenote-I use a white balance card, so I always add the shot of my subject with the card to my catalog, then use my wb dropper, and click on that to set the wb. I also run NoiseWare from a free LR droplet available on the ImageNomic website. After basic edits are done, I export to a folder within the client's folder, and add the metadata in at that time.
Ok, my image is open in CS4. (and isn't my subject adorable? I'm not a bit biased...) Always work on a duplicate copy, never the original. Go to Image>Duplicate, and then close your original. Especially if you shoot JPEG. If you shoot RAW, you can just reopen the image in ACR, and it'll retain your image settings.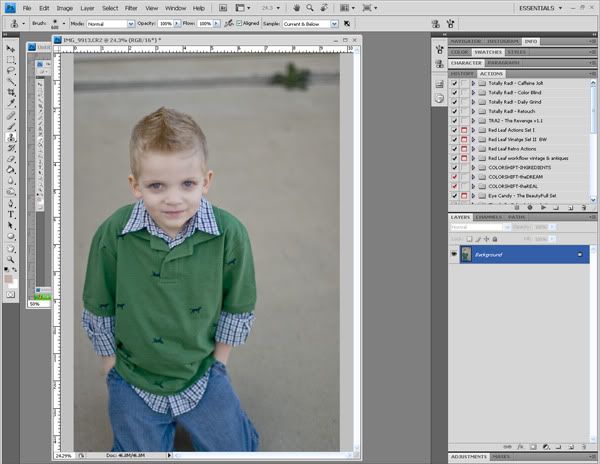 I like to start with as close to perfect a base as I can before I even touch color, so here's where I straighten the image, clone anything I see needs it, etc. In this particular case, the tuft of grass growing at the top of my driveway and the bruise on Captain Fearless' forehead needs cloned out. I always clone on a separate layer. Create a blank layer above your image, and make sure your clone tool settings at the top are set to sample "current and below". You can either flatten, or leave this layer. This is one of the few places I do flatten. If you run NoiseWare in PS, this should also be done here, so the noise doesn't influence your adjustments to the image.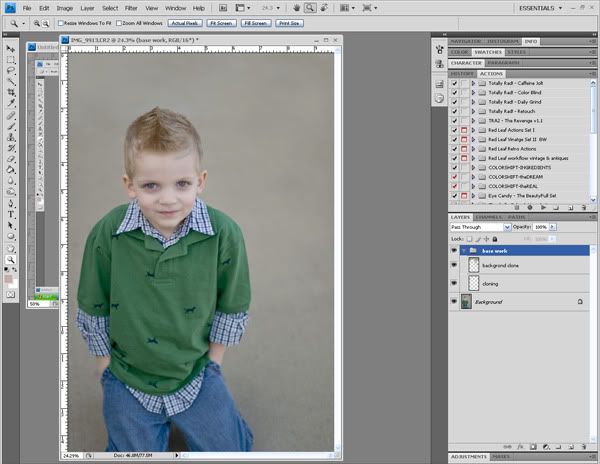 Next, a little work on the boy's undereye area. He has breathing issues, and as a result, dark purple circles under those crazy-blue eyes. The pasty white skin only makes them look worse. So, get rid of them, but not to the point that there's no shadowing at all under his eyes. This gives a flat, plastic look that's unnatural. I create another blank layer above my image, select a soft round brush, and set the opacity to 75%, the flow to about 30%. Hold down alt and click on a part of his face/cheek that's more the color I'm going for under his eyes. Working in light circles, I paint over the undereye circles, then lower opacity on the layer until I see some shadow come back through, in this case, about 75%. When I'm satisfied, I flatten. I open another blank layer above my image, and using the same method I did for the undereye areas, I paint over the slightly hot spots on his face, his nose and cheek area. This kind of "powders" his face a little, giving it a more even, matte look. Again, lower the opacity way down on this layer. Your goal for skin should always be realism, never thick or flat looking. You can flatten when you get the feel you want. And we are done flattening-I am a firm believer in non-destructive editing, and even the previous layers can be kept open if you want to keep it all intact.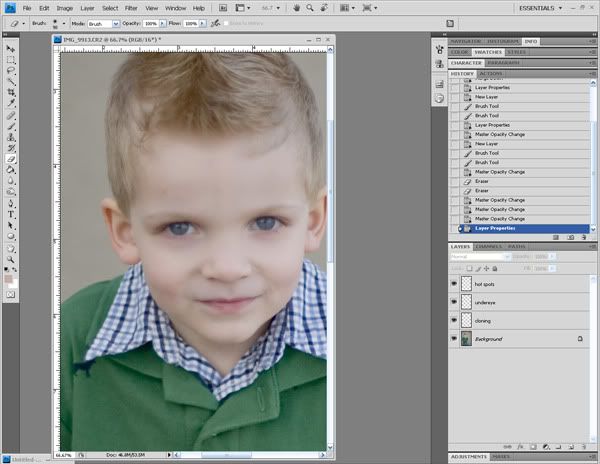 Ok, so I now have a clean, well exposed, good base to start adding color to. The first thing I do is open a curves layer, and create a slight "s" with the line by dragging the top right portion up a bit, and the bottom left down. At the top of the palette, I change the blend mode to "luminosity", which tones the yellow highlights back down. I then hold down ctrl+alt+shift+e, which creates a new layer at the top of my palette from all the visible layers. It needs more color, and I love a warm, golden glow in my images. One of my favorite ways to pop and add a slight warm glow in one shot is to open a photo filter adjustment layer, select one of the warming filters (I usually prefer the one that says "85" ), and then set the mode to "soft light" and lower the opacity. More "oomph", and a sun-kissed glow. This is probably one of the main tools I use to push color.
Ok, color intensity looks pretty good, but it needs to be brighter, and it's looking kind of dull. I do another curves adj. layer, this time slightly raising the top right side of the line, and bringing the bottom left back down to where it started. This gives me a brighter background, and makes the image a little richer. My blues have gotten a little bright for my taste, so I'm going to open a hue/sat adj. layer, and pull the saturation down to about -30 under the blue channel. I don't want it to affect my son's eyes, though, or the blue of his shirt, so I'm going to click on the mask beside the adj layer, hit ctrl+I, and invert the mask. Then with a soft white brush, paint over the jeans.
My son has clear, intense blue eyes, and this image doesn't really do them justice, because of the cloudy, grey day. There are images of him where I don't touch the eyes, because the rest of the processing I do to the image pops them more than enough. But in this case, I'm going to do my usual eye pop, which I added into the special section below.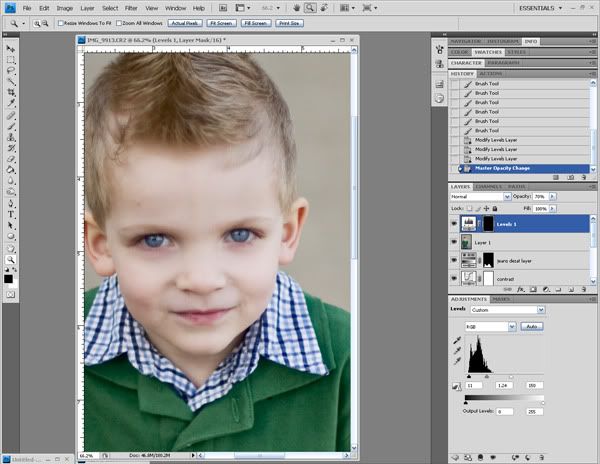 The last thing I do is create one last merged layer (ctrl+alt+shift+e), and then go to Image>Adjustments>Shadow/Highlight, and my defaults are set to this: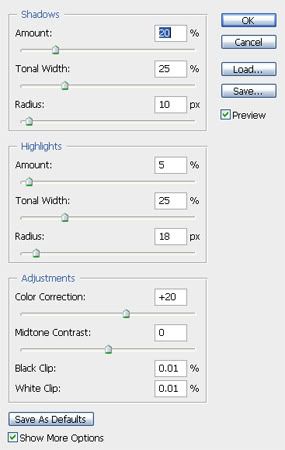 This adds a dimensional feel that just kind of finishes it off, for me.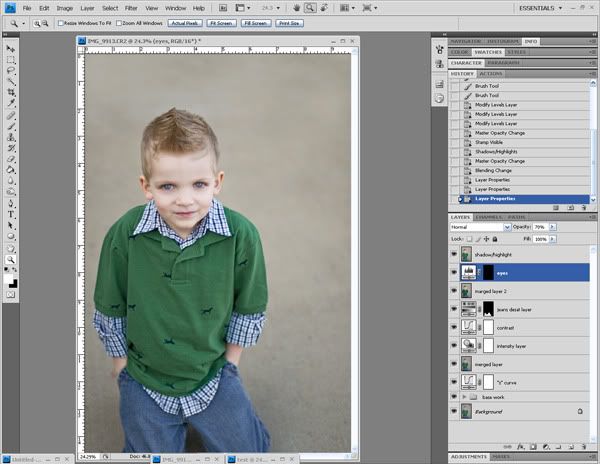 This image is pretty well where I'd want it for a clean edit, but "clean edit" isn't really what I'm known for, now is it? Enter the grunge.
The main components of a grunge look are contrast, a slight desaturation in color, and for me, I love a slightly reddish/purple hazy wash. I'm going to take my clean edit, and with 3 simple adj. layers, create the grungy, urban look I get asked about. First, contrast. A deep "s" curve on a curves adj. layer, by pulling the right top of the line up and almost to the right corner point, and pulling the bottom left down and almost to the corner point. And again, blend mode to luminosity, as contrast like this can take your skintones a harsh yellow very easily.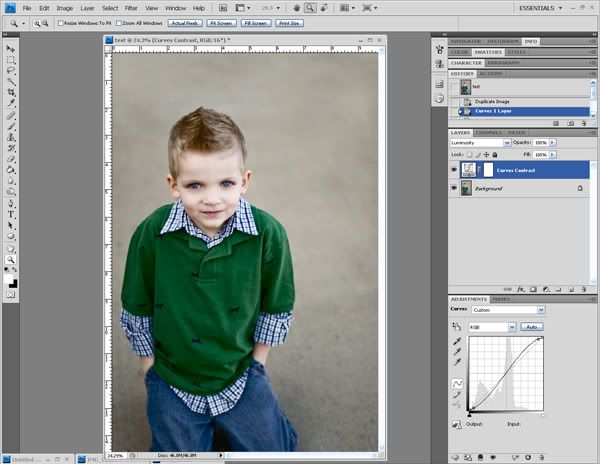 Next, the grunge wash. Open a levels adj. layer, and brighten the midtones a bit by sliding the middle slider to the left. Drag the output sliders (bottom sliders) in to brighten shadows and darken highlights, which is what gives that hazy look. Drop down and select the red channel, and drag the left output slider (shadows) to the right, to about 15. Drop down the blue, and drag the same slider to about 8.
And finally, open a hue/sat adj. layer, and drag the saturation slider (under the master channel) to about -15, maybe a bit more if you have a lot of color going on.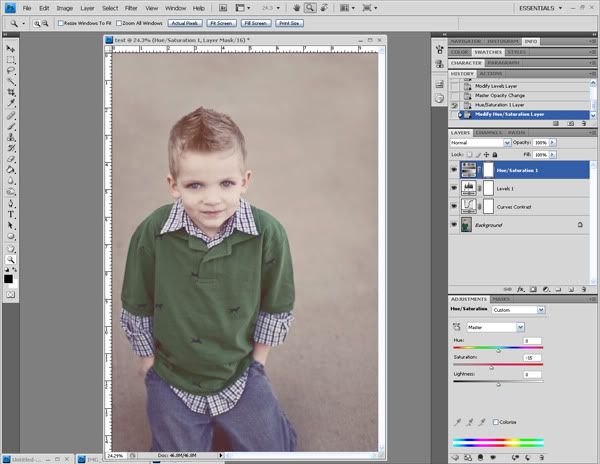 Another thing I get asked about-my conversions. I like a rich, contrasty conversion. I start with a channel mixer adj. layer, and check the "monochrome" box. Red slider 50, green slider 10, blue slider 40.
Open a curves adj. layer, and do a strong "s" curve as I described above.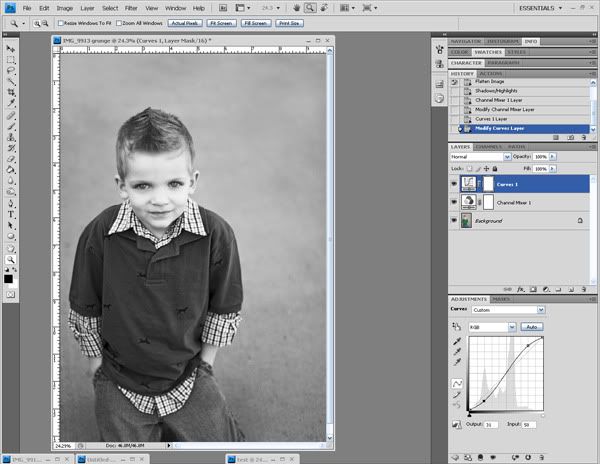 From there, I sometimes add a tint with a color fill layer, set to soft light. Once you set the mode to soft light, you can tweak color by double clicking on the palette icon. I tend towards a bluish silver or a soft, silvery plum, usually. For this, my hex code was 686a6f.
After I edit (on the uncropped, unsharpened file), I "Save As", and rename it to filename_edit. NEVER just save-you'll save right over your original. I also save the .PSD file with all of my layers, and I use the note tool (lives under the eyedropper tool) to remind myself any action or special effect I may have used. If it's a proof, when all my proofs are done, I run a batch action on them that resizes my longest side to 600px (a bit bigger if it's for my blog), sharpens for web using the USM at 300, .2, 0, places my wm on it, flattens, and SAVES TO A NEW FOLDER. Again, careful to never overwrite the original. If it's for print, I generally do a USM around 200, .5, 2. If I see it getting too sharp, I'll back off to around 150-170.
SPECIAL TIPS:
Eyes:
For eyes, I open a levels adj. layer and pull the middle slider way over to the left, the right slider to the left slightly, and the left slider a little to the right. For this, my numbers were 11, 1.24, 150. Select the mask the adj. layer creates, and hit ctrl+I. This inverts the mask, and will reveal your levels layer where you paint with white. Select a small, soft white brush at 100% opacity, and paint over the irises. Lower the opacity on the levels layer if it's too much. Select your dodge tool, and with it set to highlights, and about 5-7%, go over the catchlights. Switch to the burn tool, and with shadows selected, and again, at about 5%, go over the edges of the iris just to darken them a bit. I don't do this last step on my son's images-his eyes have a natural navy ring. My daughters', though, have very light iris edges, and this makes a big difference on them.
Cloning:
As I said, I always, always clone on a separate layer. This allows you to lower the opacity to avoid the thick, unrealistic splotches, or, if you don't like where it's headed, you can chunk the entire layer and start over fresh. Overlap and vary your brush size when cloning-this helps you avoid duplicating patterns in your image. Build your cloning in layers-if you have your clone tool set to sample "current and below", this is easy, and makes for the most realistic cloning. Utilize your transform capabilities to get proportions to look realistic if you have to. Go to Edit>Transform, and play around with distort, perspective, and even warp. If there's something symmetrical in the image that matches what you're cloning (part of a face, like the cheek, for instance), it's sometimes easier to select that area of the image, hit Ctrl+J to copy that selection onto it's own layer, Edit>Transform>Flip Horizontal, and then move that to the area you're attempting to clone and use a mask to replace the original area with the new area. Lower the opacity when you're moving, to make it easier to line things up.
Double Exposures:
One of the things I struggle with most is making my exposure look the same as my eyes saw it. That's because of the way our camera exposes, and if we were to, say, expose for a backlit scene in a field (like this one of my friend Melissa's daughter):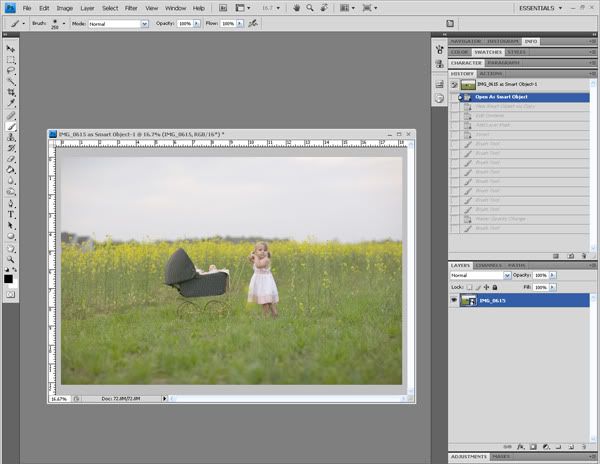 then we'd have to blow out the sky, as Melissa did to correctly expose for her precious subject. But, there's a really great sky there, too, and it would be nice to see the whole scene correctly exposed.
Can we do this? Yes. It's MUCH easier if you shoot in RAW, so that's what I'll cover, but for you die-hard JPEGgers, you can do it, too. You just have to remember to take a shot exposing for the sky as well, and then use a mask to combine the two.
RAW Shooters, you can do this in ACR and PS, though, and here's how. Open your image in ACR, and make corrections for the subject, or majority of the photo. We'll cover our problem area in a minute. When you're ready to open in PS, hold down the shift key, and your "open image" button becomes "open object". Aha! There's the magic. A Smart Object retains all the image's information, and allows you to return to ACR with the double click of an icon.
Okay, our Smart Object is open in PS. Duplicate your smart object layer. We can't just duplicate Smart Object layers, because they're linked, and if you edit the duplicate for the sky, etc., the changes will happen to your first layer, too. So, right-click and select "New Smart Object Via Copy". Now, double-click the icon of this duplicate layer, and it'll open it back up in ACR. Re-edit the image, this time for the sky or problem area, using the Recovery slider, etc. to gain back detail. Don't worry about what the rest of the image looks like for now. Once the sky is edited, again, hold down the shift key, and your image will open as a Smart Object, right where it was before, which is right where you need it-perfectly aligned with the other layer. "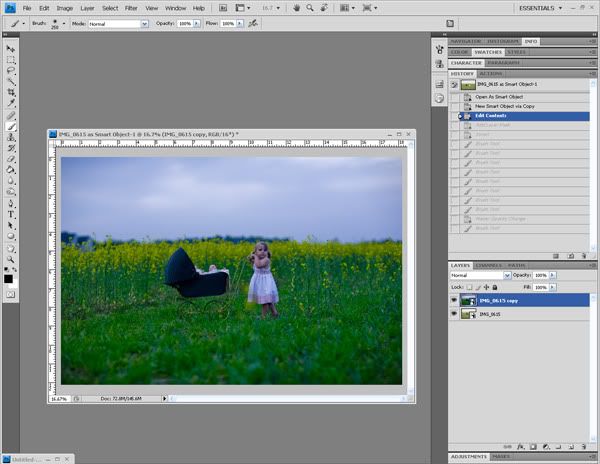 Add a mask to the top layer, and paint back the sky or blown-out area. And here's where I'd like to introduce you to a good friend of mine, the rubylith.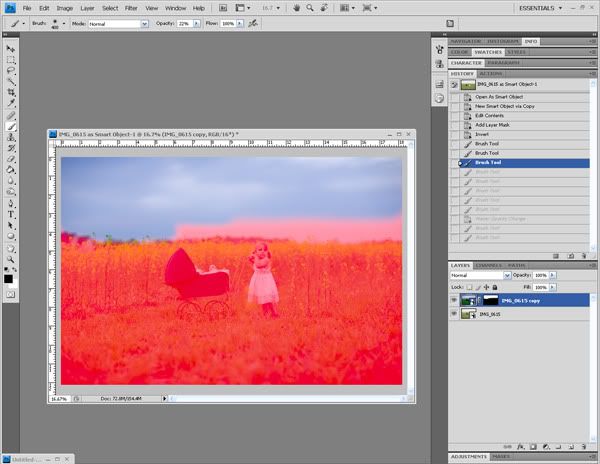 Anne/paintedmoon first introduced me to her, and it was truly instant love, on my part, at least. To see her, click on your mask, and then hit the "\" key. You'll see everything you've painted in a transparent red, so you can happily paint with black and switch to white, and back, until you have painted precisely where you need to. Perfection. Get to know the rubylith-I guarantee she'll make your editing easier.
Ok, now you can see that gorgeous blue sky, and your subject is perfectly exposed. The last step is to create a merged layer, again, with ctrl+alt+shift+e, and that is the layer you start working with. Ta-daa!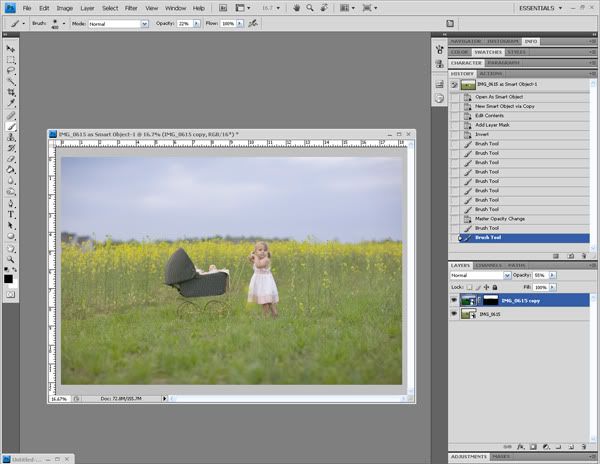 And, fully edited with my workflow:
I hope some of this helps someone-and thank you, Jami, for letting me be a part of this awesome new part of 2Peas.