I can't find the original thread that I posted. Search just isn't coming up with it. Anyway, in that thread I said I'd post pics and instructions after I finished mine up. I found the original through Pinterest at
Lizzie and Company
I'm sorry, but this photo is going to be huge. It seems that Photobucket has changed and for the life of me, I can't figure out how to make it any smaller. At least, you'll get a good look. LOL!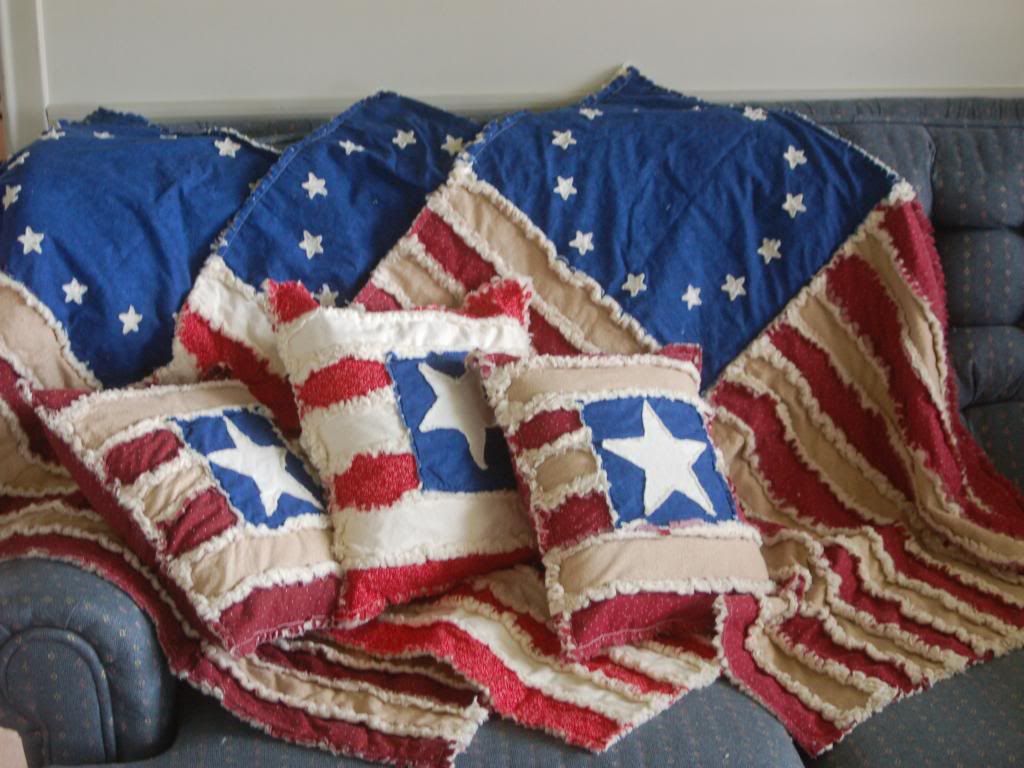 I ended up going with the 13 stars because I couldn't get my Cricut to cut out the stars. I tried a new mat and blade, but that didn't help. From reading online, it's best to use Heat & Bond on the back of the fabric for the Cricut to cut. I didn't want to do that as then the stars wouldn't fray. So, needless to say, I just didn't have time to cut out 150 stars to do these. LOL! I did cut the original star pattern with the Cricut. It was cut at 1 1/2".
On the Lizzie pattern, she says hers is 42" long. Mine are about 39 1/2" long. When my flannel was washed, it shrunk from 44" to 40". So, after cutting the salvage the strips were all cut about 39 1/2". The stripes were cut at 3" wide. 1/2" seam allowance on each side so they were 2" once sewn. 7 red stripes and 6 white stripes. I constructed my whole quilt of stripes, then went back and cut out the spot for the stars. This gave me a little leeway in case something didn't end up even.
The blue part was cut to 16" square. I used one of my Pfaltzgraff dinner plates to position the stars in the circle. I used the stripe part that I cut out for the blue section to make the pillows.
A little quick tip for cutting your stripes, in case anybody doesn't know this...you can start with a cut at your 3" spot, and instead of cutting, just rip the fabric across. Cotton will rip along the grain and all of your strips will be the same size and it's a lot quicker tearing them than cutting each one.
If anybody has any questions, let me know