Member Since April 2007, 12819 forum posts, 962 public projects
Blog Post
Today I am officially retiring my 2Ps Blog
I wasn't very good at blogging here. I hope I can manage to blog regularly 'off-site'. Today I officially introduce my 'real' blog called StefStyle: A Creative Blog. Hope you stop by and visit me sometime!
stefstyleblog.blogspot.com/
9/15/2008 12:18:11 AM | Comments (1) | Send a Message (PeaMail) | Vote for this Blog Post
301 Moved Permanently
---
nginx
---
Blog Post
In Praise of Packratness (or is it 'Packrat-hood'?
I have a beautiful box in my studio. It's actually more like a trunk. It's one of those pretty, decorative boxes you can get at Michaels, with the curved lid, and a latch and everything. It's actually made out of cardboard, and is covered with pretty paper, and measures about 2'x1'x1'. In it I keep all my ephemera. Anyone who knows me, knows I'm a collector. I don't have anything that's worth much, but I enjoy having lots of 'stuff' around. Since I started digital scrapbooking a couple of years ago, I've found new uses for my ephemera collection. If you've never heard that word before, it's basically paper junk. Old postcards, greeting cards, maps, souvenir folders, brochures, menus, matchbooks, and the like. Most of my stuff is from the 20s through the 50s, with a smattering of 60s and 70s greeting cards thrown in. My plan was always to use them in my artwork, and I do from time to time. So I got out my box last week to search for an old souvenir brochure I had for the Farmer's Market in Los Angeles. I had recently visited there, and was planning my layout. I thought the addition of the old brochure would make a nice touch. The most amazing thing was that I actually REMEMBERED that I had the thing. I don't venture into that box too often, and I hardly ever remember what is in there. But sure enough, I found it, and it added a nice touch to the layout to have a few old things. You can see that layout here: www.twopeasinabucket.com/pg.asp. Since I had the box out, I used some stuff in it to create a birthday card for my oldest son, then yesterday I did an entire layout celebrating ephemera. www.twopeasinabucket.com/pg.asp
Obviously, I don't have anything important going on in my life, so perhaps I'll just end with this thought: Looking through pieces of other people's lives has made me appreciate my own! Here's to boxes of Ephemera!
8/26/2008 10:53:07 AM | Comments (0) | Send a Message (PeaMail) | Vote for this Blog Post
301 Moved Permanently
---
nginx
---
Blog Post
Blogging Vs. Me: The Eternal Battle
I will admit, I'm a pretty scattershot journal-writer. Back when I actually kept a journal, I could go months without writing. Oh, I mean years! Ok, the last time I wrote in a journal was in 1986 when we moved to Rhode Island. I had plenty of excuses... the kids were little & keeping me busy, I was working full-time, I had to wash my hair. But frankly, I really hated writing down my thoughts. When my oldest son went on his Mission in 2001, I decided to make my weekly letters to him, a sort-of journal. By writing newsy family letters, and adding tons of digital photos to my digital newsletters, I satisfied that journal keeping mandate that has plagued me all of my married life. That habit kept on for 6 more years, as my daughter, then my younger son went on their Missions. As time passed, my letters became better- both literarily and graphically. I think that was the beginning of my fledgling interest in digital scrapbooking. I was creating artistic letters that combined journaling, photography and design. But although since that time I have created hundreds of digital layouts, the journaling still eludes me. Sure, I write a sentence or two on my layouts. Sometimes more. But although digital scrapbooking is my creative outlet of choice, there's still a part of me that longs to share my thoughts & experiences in a more profound way. When I discovered Two Peas was offering a user Blog opportunity, I jumped right on it! Wow, a chance to see if I was self-disciplined enough to write regularly, coherently, and memorably. HA! The first few months I wrote pretty much every week. Short but sweet, always with a photo or two, and a paragraph or so of newsy or interesting information. But now I think the honeymoon is over, and blogging just isn't going to get any easier! I mean, every time I look at my gallery, my 3-week old post stares me in the face. The more time that passes, the guiltier I feel, but I just can't seem to make myself update the little blog. I'm not even sure why I'm writing this tonight... I'm not sure anyone is out there!
But, I'm taking a deep breath here... and setting some new goals. Shortly I will start an 'Official Blog'... you know, one that's not here on 2Ps, one that I can link to, and create a cool header for... and if I can't even update this one every week or so, I am probably doomed to one of those blogs you see where the last update was April 16, 2004.
Since I like having at least one picture in my blog, I'll add this one from our recent vacation. You know, the one that I got home from 2 weeks ago. That one.
8/6/2008 1:48:24 AM | Comments (3) | Send a Message (PeaMail) | Vote for this Blog Post
301 Moved Permanently
---
nginx
---
Blog Post
I haven't been a very good blogger on this trip... well, ok, I'm not a very good blogger PERIOD! Our trip to Canada has been a rousing success! We have visited New Brunswick, PEI, and Nova Scotia. Today is our last day in NB, and we are currently packing our bags to check out of the Hampton Inn, and head west. Friday we spent the afternoon at Peggy's Cove in Nova Scotia... a beautiful & picturesque old fishing village & lighthouse. Nearby is the memorial to SwissAir Flight 111 that crashed off the coast nearby in 1998. A very touching monument. Here's one of our 467 photos we took on that day: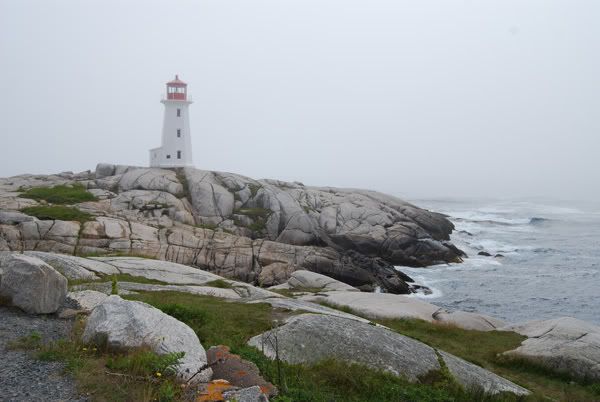 7/21/2008 10:07:57 AM | Comments (3) | Send a Message (PeaMail) | Vote for this Blog Post
301 Moved Permanently
---
nginx
---
Blog Post
We have spent 3 days in the Eastern Provinces of Canada... it's such a beautiful place, so different from what I am used to in California! Monday, we enjoyed driving across New Brunswick, from Fredericton to the Prince Edward Island bridge. The lush green vegetation, historical homes, and cultural differences were so fun to experience. When we arrived at the Visitor's Center at the PEI bridge, one of the guides recommended that instead of going ahead to PEI, we drive up the Acadian Coast. So we turned around, and headed toward Bouctouche. It would have been fun to drove further north, but unfortunately, since we rented our car in the US, we have a milage restriction, and can't drive as far as we would like. We found a nice place to stay, then on Tuesday, we walked the amazing dunes & marshlands of the Eco-Centre. I'm sure I'll do a layout of that beautiful area.
This photo was taken near the bridge. When we arrived in PEI, I was totally blown away by the beauty of the island. I'm sure the tour guide, being a young woman, finds PEI kind of boring. But we found it fascinating and lovely. If you've read Anne of Green Gables, you might have a picture in your mind of what it looks like. It is pastoral, green, soothing, and exciting. Charlottetown is a bustling college town, with lots of great shops, beautiful houses & buildings, and a University. There are beautiful beaches (which we didn't visit), lighthouses (we saw 2) and farms and old churches that satisfied my sense of history and culture. I wish we could have stayed longer! Today, after a ferry trip across the Gulf of St. Lawrence, we arrived in Nova Scotia. Wow! Forests and water everywhere, it is one of the most beautiful places I have ever seen. I have lots more to tell about our adventures today, stay tuned for the further adventures on the next issue of Travel Journal!
7/16/2008 8:55:28 PM | Comments (1) | Send a Message (PeaMail) | Vote for this Blog Post
301 Moved Permanently
---
nginx
---
Blog Post
Sometimes technology can be a pain in the butt! We lost nearly 2 days of our vacation dealing with technology... our second day in Rhode Island was spent at the AT&T store, trying in vain to get new iPhones, then substituting regular cell phones until our new iPhones come in. That took HOURS! It doesn't help that we are so far away from our home base, just made the switchover so much more complicated! Then, our one day in Boston, I had to spent about 3 hours at the Apple store. I bought a new, portable external hard drive along with us, so I could back-up the travel pics. Turns out I had so much stuff crammed into my poor little Mac's Memory, it about fried it's brain. Took the Genius 2 hours to copy my entire iPhotos file. Whew, good thing we did that, or I would have been so sad to find my computer inoperable, and no scrapping en route! But all is well now, and I'm downloading & scrapping like crazy!
Yesterday, we drove through Maine. I have some ancestors who were from the coastal areas of Boothbay, Nobleboro, and Friendship. We hiked through a few cemeteries, and discovered the charming lobster fishing village of Friendship. I wish I had done a little more genealogy homework before I left, I could have been a little more prepared. But, I learned a lot, and discovered that my Great-great-great-great grandmothers' famiy were some of the very first settlers of Friendship in the mid-1700s. I can definitely see some more research in the near future!
Here's a great photo of the little bay at Friendship:
Last night we arrived in Fredericton, New Brunswick. We have been to Western Canada, and several trips to Toronto, but NB is totally different! We dropped Annie off at EFY at the University of New Brunswick. She was SOOOOOO happy to be rid of us... can you believe, she thinks we take too many pictures! What could she be thinking? Now Bruce and I will have a few peaceful days, taking as many pictures as we want! Can't wait!
7/14/2008 11:34:33 PM | Comments (2) | Send a Message (PeaMail) | Vote for this Blog Post
301 Moved Permanently
---
nginx
---
Blog Post
Hi everyone! We're in Boston today, after spending the first two days in Rhode Island. Rhode Island is where our family lived from 1986-1990, when our first 3 kids were pretty small. Our 16 year-old daughter, whom we have with us, had never been to Rhode Island, so we have been showing her the sights. Trust me, that girl doesn't care a whit about our old house, neighborhood, history etc. I was probably the same at her age! Unfortunately, we spent most of our second day there in the AT&T store, trying to get new iPhones. Not successful.
Here's a lovely photo of a park I stumbled on in Barrington, RI. I used an action on ithe photo so it's a little garish, but it was so pretty I couldn't resist.
I had forgotten how green the east coast is... compared to the browns and golds of the California hillsaides, it is like a jungle here! Every place we see is a photo op, I'm going to crash my computer with the tons of photos I'm downloading.
A few of the places we visited on our first couple of days: Newport, Peace Dale (former home) Narragansett, Pt. Judith lighthouse, Wickford. Last night Annie and I drove from our hotel in Woburn, MA to Faneuil Hall in Boston for dinner. That was fun! Friday night in downtown Boston was lively & crowded!
7/12/2008 9:11:59 AM | Comments (2) | Send a Message (PeaMail) | Vote for this Blog Post
301 Moved Permanently
---
nginx
---
Blog Post
Last week, we were in Chicago and Nauvoo, IL on vacation. We took tons of pictures, many of them of the Nauvoo Temple, a beautiful, historic building overlooking the Mississippi River. Over about a 90 minute time-span we took dozens, maybe as many as 200 photos of the beautiful, waning sunlight hitting the front of the building. I'm not a great photographer by any means, but a decent camera, and amazing natural light, can make up for a multitude of poor photographic skills.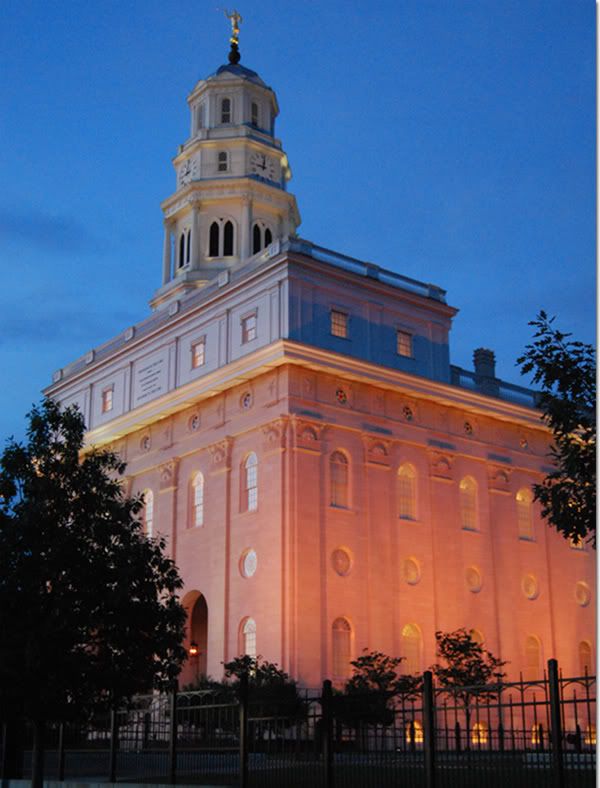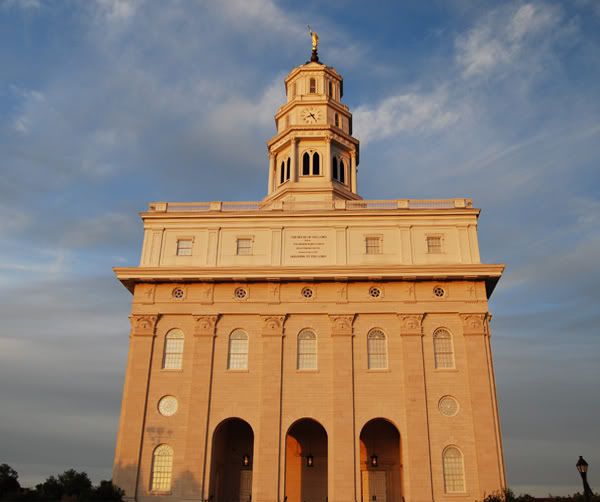 7/3/2008 11:56:26 PM | Comments (2) | Send a Message (PeaMail) | Vote for this Blog Post
301 Moved Permanently
---
nginx
---
Blog Post
I've written about my book before, but I'm finally seeing some progress. I am writing a history of a school, and I've been researching for a couple of years. Off and on. (mostly off!) Last weekend I attended an alumni association picnic for my high school, and wanted to share what I had done so far, so I got started on the book design. I designed & printed the first 8 pages of the book, plus the cover. I was pleased with the way it turned out, and I got some enthusiastic feedback from the alums.
Here's my cover concept- the nice thing about designing it myself is that I can change it up until I'm happy with it. I'm about 70% happy.
Here are 4 of the inside pages, just to get a feel for the style & format of the book. I have so much more to do, but I'm starting to feel like I am actually acomplishing something!
6/19/2008 7:27:01 AM | Comments (0) | Send a Message (PeaMail) | Vote for this Blog Post
301 Moved Permanently
---
nginx
---
Tutorial
Creating a Digital Kaleidoscope Image
By popular demand, here's a pretty quick & easy way to create your own kaleidoscope image. I am using Photoshop CS3, but you should be able to duplicate this with whatever program you use. My typical disclaimer: I don't claim that my way is the only way, or the definitive way, the right way, or even the fastest way. It's just my way. If you have a better way, terrific! Let me know so I can learn something new! This is what I would consider an intermediate to advanced tutorial, so I will not go through every little step in complete detail. Like any project, your interprretation is your own. And since this is a kaleidoscope image, there are no end to the variations you can make. This just should get you started.
Here's my layout where I used the kaleidoscope images.
Ok, to begin, I simply created on a new layer, a circle to use as a template. then on a second layer, a 16th of a circle slice. That little white slice is the basis for the image. Although I didn't do this until later, I recommend you duplicate this slice layer, as you will need it later.
Now starts the fun. Using a variety of tools (marquee, elliptical marquee, brushes) I start creating random shapes on my slice, and fill them with fun, bright colors. Feel free to overlap some of your shapes over the edge. I recommend you use at least some long, thin rectangles because these will give your pattern movement & variety when you put it together.
When you are happy with your results, (now is the time you will need that second slice layer copy) simply select the outside of the slice layer copy, then select the fun color layer, and hit delete. All of the overlap will now disappear, and you will have a clean slice.
Now, duplicate your kaleidoscope layer, and go to Edit> Transform> Flip Horizontal. You now have a second layer, the mirror image of the first. Manipulate it until it is in the correct position to create a 1/8th slice of the kaleidoscope.
Next, merge your 2 layers together. Make sure you have fixed any tweaks to your design, it's easier to do it now, than when you have done several merges.
I made the little red circle at the top of the design rounder, as it had kind of gotten flattened as I merged the layers. The next step is to create an interesting edge. I don't want my image to be perfectly round, but have snowflake-type edges, so I select & delete the bottom white portion thus:
Another duplication, and merging, and I'm halfway done.
Repeat, and you now have your complete image. You don't need your background circle any more, so you can either delete that layer, or hide it.
You might want to leave your image like this, but I wanted to eliminate the white background. With the Magic Wand tool, I clicked on a little piece of white inside the image layer. Then I went to Select> Similar, to select the entire white background of the image, excluding the white background layer.
Next, I went to the Gradient Tool, and picked a grandient from the menu, and applied it to the background. I fiddled with it quite a bit before I found a look that I liked. (The magic of the UNDO command!). Voila, a fun kaleidoscipe image. In my layout I did a bevel & emboss, and added a drop shadow. You could create paper, elements, or brushes with your images. have fun!
6/7/2008 2:39:46 PM | Comments (6) | Send a Message (PeaMail) | Vote for this Tutorial
301 Moved Permanently
---
nginx