Blog Post
I was going to do a video but since I don't have a tripod I rely on one of my sons to hold the camera & none were around so still photos will have to do.
I have this tracing paper in my stash. It was a $ dollar spot $ item at Michael's. It works perfect for this technique
Many of the magazines have been showing flowers using heart punches so that inspired me in this tutorial.


I folded the tracing paper to keep it from jamming the large McGill heart punch (my clearance treasure which was only $2.22 at Hobby Lobby). It also made quick work of punching the "petals" for the flowers. (sorry for the sunshine shadow... lol)

I scattered the hearts in a shallow box to contain the overspray from Tattered Angels Glimmer Mists. This box is what the upper tier of my Clip It Up Upper Tier came in - it's a keeper.
I used Olive Vine green for the base petals.
After swirling your bottle to stir up the glimmer (don't shake or it will clog your sprayer). I always do a test spray away from the items to see how much ink comes out of that particular bottle. Spray lightly.
Notice how the tracing paper curls as I sprayed them. This is fine and they straighten out when dry & it will aid in getting color variations from the spray.
Then I placed the hearts to be used for the top of the flower that I sprayed Raven purple. Leaving the green hearts in the box allowed some of the overspray to add interest & depth to the colors.
Taking a paper towel to blot the excess ink. Don't rub as this will muddy the color & you will lose the spray droplets that add texture & depth.
I then used the heat gun to finish drying the hearts. They will scatter around slightly as the moisture evaporates and no longer adheres them to the box - but the box was high enough to keep them from flying around the room lol. If this is a problem use a stylis or skewer to hold them in place while still keeping your hands away from the heat.
Crumble each heart up lightly. Inking the edges & the creases with a bit of Chestnut Roan Colorbox chalk ink gives subtle definition.
un-crumble as you ink
Use a liquid adhesive like Beacon 3 in 1 to adhere the hearts to form your flower. I just put a small amount of glue in the center and along the narrow edge of the heart leaving the upper part free to move & mold to add dimension.
Start arranging the hearts in s circle by slightly overlapping them.
I used 5 as my base (odd number groupings look best).
and 3 hearts for the top layer.
Adding something to the center covers the overlaps and finishes the flower off. Your imagination is the limit... Here simple large cream color buttons look great.
Adding purchased Prima flowers (these are the ones that are in the tin Heather is giving away for the prize) with a gemstone brad in the hole.
Finally I settled on the Jenni Bowlin chipboard buttons with a bit of twine knoted.
3/28/2010 8:39:05 AM | Comments (7) | Send a Message (PeaMail) | Vote for this Blog Post
302 Found
The resource was found at
http://www.twopeasinabucket.com/shop/BLOG/44811/
; you should be redirected automatically.
---
Blog Post
Trying Something Different....
IIf you scrapbook a lot then sometimes you can feel like you are in a bit of a rut...

Most times I can snap out of it pretty quick by: using some great new products I love, printing some new or old photos with a story I've got the perfect idea how to tell, or trying a new technique or doing something a little different... you know "Shake Things Up" to get those creative juices flowing again.
Since there is no A/C in the room I scrap in I have been sneaking in there early morning or late at night. We're now working with the insurance company because it seems that there was a power surge that "cooked" the entire central a/c unit. I'm hoping that works out - it's a lot easier to pay $500 than $4500. With it being hot in there I am just not wanting to spend a lot of time. So to get some scrapping done I was inspired to go a bit more simple scrapbook style rather than my usual layered detailed pages.

For the layout I decided to try a new size for me - 8x8. I thought it would be too restricting but I actually liked working in this format.

This is a photo of our basset hound Sammi. We spoil our pets with presents on their birthdays & when I was a child we even had birthday parties. This is one of those party photos from 1979.


Supplies:
Cardstock (Bazzill); Paper (My Mind's Eye); Letters (American Crafts Thickers); Stamp (Unity Stamp Company - Fact of Love)
Photo Corners (Heidi Swapp); Ribbon (American Crafts); Ink (Ranger); Thread (Coats & Clarks)

I also made this card. The American Crafts paper has a nice "wave" pattern so I thought the Unity goldfish stamp from the brand new customer pick kit would be super cute. I colored in the stamped image with my watercolor pencils then added a touch of water to blend. Cute & easy.
This card will be going to Cards For Heroes (organzation that collects & ships blank handmade cards to our troops on active duty)



Supplies:
Cardstock (Bazzilll); Paper & Ribbon (American Crafts); Ink (Ranger); Watercolor Pencils (Faber-Castell
Stamps (Unity Stamp Co
7/24/2009 7:50:44 AM | Comments (0) | Send a Message (PeaMail) | Vote for this Blog Post
302 Found
The resource was found at
http://www.twopeasinabucket.com/shop/BLOG/42267/
; you should be redirected automatically.
---
Blog Post
Vintage Simple Scrapbook Kind of Mood
I sure have been neglecting my 2peas blog. I guess with my blogger blog, facebook, twitter, email, message boards I could sit at the computer full time doing scrapbooking stuff but I don't think my hubby would appreciate that (unless I got paid like ti was a full time job lol)
I thought I would share a couple layouts I did last week. I love working with my families old photos. Telling those stories & getting to know what my parents & grandparents were like when they were younger really excites me & get's those creative juices flowing.
Normally I'm not a Simple Scrapbook style scrapper. I'm a "piler" the more layers the better. But for these photos I let them lead me in the style that was right to showcase them.
Here's a couple pages that I did for my Everything Scrapp'n design team work.
I love diecut paper but once I got the bird paper from Prima I wasn't quite sure how to use it. It has a great tone on tone herringbone print that I thought was elegant enough to be in a more formal page but when matched with the black & white elements just screamed late 50's early 60's to me so that's what inspired me to use it with my Aunt Diane's prom photo.
I fell in love with this old photo of my dad, his 2 brothers, a friend & their infamous dog "Smokey". I still hear stories about Smokey & the trouble the 4 of them got into. The Cosmo Cricket Li'l Man had been sitting in my cropper hopper for a while & this was the perfect time to bring it out since it's a slightly distressed boy theme. It worked great with the Jenni Bowlin journaling spot & Bingo card. Using my favorite American Crafts Jewelry Box Brown Thickers I was able to scrounge up enough letters to make a title that would work (hense the "Z" in days)
Thanks for visitng. Have a fantastic day.
7/22/2009 11:47:35 AM | Comments (1) | Send a Message (PeaMail) | Vote for this Blog Post
302 Found
The resource was found at
http://www.twopeasinabucket.com/shop/BLOG/42250/
; you should be redirected automatically.
---
Tips & Tricks
Everyone knows how much I love heritage scrapbooking.
I'm always working with photos from the past. From my childhood all the way back to my grandparent's childhood. This causes me to spend a lot of time at the computer scanning & editing photos.
I noticed some of the studio photos were printed on a thick textured cardstock type paper. To keep that vintage feel (it also hides the imperfections) I printed this photo of my sister & I on Bazzill Cardstock instead of photo paper. I think it really makes the page more authentic.
5/17/2009 11:39:20 AM | Comments (0) | Send a Message (PeaMail) | Vote for this Tips & Tricks
302 Found
The resource was found at
http://www.twopeasinabucket.com/shop/BLOG/41694/
; you should be redirected automatically.
---
Blog Post
Budget Friendly Mixed Media Mini Album
This is my version of a mixed media album

I love the new mixed media albums from Fancy Pants. They really are reasonably priced & make quick work of making a fantastic mini album. I've found that you can use the pages for several albums instead of having it all in one mini if you cut & add other pages yourself.
But for some Everything Scrapp'n
design team work I thought I would challenge myself to do a "knock off" version since I've been becoming the queen of the faux versions (chipboard by cutting multis & layering, home made clip it up with a paper towel holder, felt flowers similar to Maya Road, etc)
But with the economy right now I was trying to think of a way I could pull off the look with items in my scrap stash at a lower cost. Minis make wonderful gifts for family & friends. They really have that wow factor going for them. A bit more labor intensive but an option for those of us on a creative budget.
I made the pages in this mini with an overlay, felt, &
faux
chipboard (layered
cardstock
diecuts
) . I think it gives the same mixed media feel for much less money. I've made several "acrylic" look albums using overlays & the
Hambly
are by far the most sturdy for this purpose.
The front cover is 1/4
th
of a 12x12
Hambly
overlay. I added
bling
to the butterflies. Since it's a
transparency
I used a contrasting color pattern paper for the 2
nd
page to really make the green butterflies pop. Even though the
transparency
is sturdy I put the the
Thickers
titlework
& the clip/tag on this page because over time they could still be a bit heavy for the
transparency
sheet since it was serving as the cover of the book.
Pages 1-2 With my minis I like to add narrow "pages" in between the full size pages for visual interest & it also gives me a great place to journal. As the
transparency
page is turned different parts of the page layout are visible so I take that into consideration. On previous minis I put
actual
photos on the "acrylic" pages but this time I have them in there just for the butterfly motif.
Pages 3 & 4. The blue floral diecut narrow "page" is a Quickutz border punch that was layered on Bazzill Bling. It was a make n take from Archivers last summer.... I save everything & cutting it in half here from it's original 12" long size was a perfect journaling spot. Buttons, bling & flowers add texture.
Pages 5-6 I liked using the fullsize photos of my flowers so it didn't leave me a lot of space for journaling. Having the page with just journaling gives a resting spot in an otherwise busy album.
Pages 7-8 Adding stitching to the cardstock not only helps to adhere the layers together but adds texture & subtle lines to the page. Adding the felt diecut border strip & dimensional floral stickers along with the paper flowers decorates the page while keeping with the theme. Notice the 12x12 scallop diecut paper hangs out a bit from the album for another design feature. The circular shape also helps break up the squareness of the book.
Pages 8 - 9 I adhered the orange paper to the back of the diecut scallop paper & hand cut with scissors. Adding some rub ons helped to fill in the space since I used different size photos in my collage. The heart is a Creative Imagination Jouranling spot & I just did the same technique to back it so it would be pleasing on the "wrong" side. The more shapes on pages the more interest.
Pages 10-11 Repeating the same pattern papers from earlier in the book. Some of the flowers I didn't feel needed journaling so I just let the full size photos shine.
Pages 12-13 Continued with similar techniques & patterns for unity thru the book. I kept the butterfly overlay in mind when placing the embellishments as they would peak thru. Metal embellishment are a fun addition to pages.
The back cover of the mini is the embossed craft felt. Stitching it to the several layers of same shape cardstock really made for a sturdy back cover & the tactile feel in my the viewers hands adds to the minibook experience... Notice with the cover closed how the diecut scallops are not all flush in the book. That to me is a good thing. At the end is when I added the ribbons to the rings & top of the album. With the album closed I checked to see where each ribbon would end up hanging out of the top of the album. I chose according to what looked good on each page.
A complete supply list is on my blog.
5/16/2009 9:49:32 AM | Comments (2) | Send a Message (PeaMail) | Vote for this Blog Post
302 Found
The resource was found at
http://www.twopeasinabucket.com/shop/BLOG/41687/
; you should be redirected automatically.
---
Blog Post
Big Thank You to Deanna a.k.a. scrappin-grandma

I'm a member of the Layout A Day group here at 2peas. Our fearless leader is Deanna (scrappin-grandma). She faithfully starts the thread daily & comes up with a question of the day. In addition to that she is just so sweet & caring - always there with a cheerful word. Last week was the 3rd anniversary of the LOAD group. The founder & some of the original members popped in & in honor of the celebration Deanna was offering a gift certificate for the 2peas store.
I was the lucky winner of the prize & wow what a prize it was - $20! Thanks so much Deanna for such a generous gift. You are so awesome!
If you're looking for a fun group to join. Check out the Layout a Day group - everyone is so friendly & talented. A new thread is posted each day on the Pub board. Here's the link for today http://www.twopeasinabucket.com/mb.asp?cmd=display&thread_id=2767759.
3/10/2009 6:12:40 PM | Comments (0) | Send a Message (PeaMail) | Vote for this Blog Post
302 Found
The resource was found at
http://www.twopeasinabucket.com/shop/BLOG/41097/
; you should be redirected automatically.
---
Blog Post
I placed my order last week & I just wanted to say that it was shipped super fast & packed really carefully. You know there's nothing worse than getting paper with the corners dinged up & but 2 peas eliminates that worry. Everything came in perfect condition & all accounted for.
The hard part of placing an order is deciding what to buy.... other than that 2 peas makes it a piece of cake. Thank you for taking such good care of your customers.
2/25/2009 2:56:33 PM | Comments (0) | Send a Message (PeaMail) | Vote for this Blog Post
302 Found
The resource was found at
http://www.twopeasinabucket.com/shop/BLOG/40929/
; you should be redirected automatically.
---
Blog Post
What to buy with my $20 for 20 Prize
I must have changed my mind 20 times what was in my 2peas cart the last 2 weeks.... I was waiting for some of my wants to come back in stock (all of you who shopped early cleaned them out lol - that'll teach me to dilly dally)
I knew I had to have some of the new Jenni Bowlin papers & embellishments. I also stocked up on my favorite Bingo cards. (wish the small brown ones had been in stock)
I can't find October Afternoon locally so that was a must. I picked a few papers from the Christmas line & some of my favorites from the older lines. I also gave the letters a try (to have on hand for quick layouts) I had to have the Library Card Acrylic Stamp set too.
A few of the new Basic Grey Marrakech papers found their way into the cart - love that blue
Some Bazzill white cardstock (since they were out of my favorite kraft color)
New Cosmo Cricket girl lines look fun & always love the ledger & graph paper which was on the back.
I can never have enough of the Making Memories die cut papers so picked up a couple of the new ones - such happy spring colors.
Some brown & cream colored flowers (like I needed more flowers)
And a few other small stamps & misc papers.
I even got free shipping!
Thanks 2 peas for stretching my scrapbooking $$$
What did you buy with your $20 for 20
2/17/2009 5:25:39 PM | Comments (0) | Send a Message (PeaMail) | Vote for this Blog Post
302 Found
The resource was found at
http://www.twopeasinabucket.com/shop/BLOG/40855/
; you should be redirected automatically.
---
My Two Peas Story
I was inspired by the challenge to tell how I came to 2 Peas....
I know I'm usually late to get on the bandwagon but 9 years late.... give me a break. I've only been a Pea for a little over a year.
I've been a long time traditional scrapbooker & have many albums going back way before there was all this great product around. I was happy in my own little world sneaking in a little creative time in between: homeschooling, kids activities, church, volunteering, cooking, cleaning, gardening, and all the other things that fill our lives as a mom. So when my boys graduated high school & were busy working & going to college.... I had a serious case of the empty nest syndrome. I was spending more of my day doing "my thing".... but I was lonely. All the LSS nearby had closed up years before & none of my friends scrapbooked anymore since their kids were grown (they weren't REAL scrapbookers anyway if all they thought to do were kids photos right?) I was losing my creative mojo while shopping at Joann's & looking at the same yucky old papers. I started looking on the web for a place to buy some pretty papers & supplies..... that's when I found 2 Peas!
It was like a light went on, angels were singing, the stars aligned & my world was a wonderful place again!
No seriously I was so excited I could have screamed "yipee"! 2 Peas had everything.... a store to buy stuff, a forum to talk with other scrappers & a gallery for inspiration and boy was I inspired. The "bug" bit me like never before. It was wonderful to find a group of people so welcoming to a newbie (I didn't even know any of the lingo except "lol" but I was kindly told where to find the list explaining it...) Everyone was so nice to answer my questions. I finally had people I could chat with that really understood spending 3 hours on one layout & the frustration about not having the right color red cardstock when I had 10 different ones. 2Peas quickly became the "place" I visited while eating breakfast each morning. I gradually found a couple groups that I posted to everyday & challenges to participate in.
Scrapbooking is such a personal hobby and we share glimpses into our families & lives with each gallery post we make. It's easy to feel like you really know someone well because you know what their kids look like, what color their kitchen is, or where they went on vacation. It's so neat to chat with people from all over the world. Even on those sleepless nights I always know I can catch up on praise or chat in the forums - there's always something going on. I've made some dear friends in these forums & even got to meet a few in person while they were in Atlanta.
IMHO: With all the scrapbooking sites out there 2peas has really gone out of their way to find their niche & set themsleves apart from the droves. You really value your members & realize that they make the site just as much as the environment you create for us. There really is something for everyone. The gallery is filled with inspiration that I would have normally found in magazines and with the addition of tutorials, classes, & videos we're able to learn new techniques any time of the day or night. I've become a Pea Cheerleader - encouraging every scrapbooker I come across to hang out here.
No I haven't been here that long but even in the short time I have been a Pea there's been so many changes & improvements. I'm loving our new badges, the video classes, and the occassional "get togethers" where we can ask the GG questions. I know there's lots more in store for us as this great all purpose site continues to evolve.
Not only has 2Peas changed in the last year... so have I. I have a blog, submit to publications, been on a design team, won contests & really come into my own scrapbooking style. When I'm asked where my complete gallery is of course I say TWO PEAS IN A BUCKET where else would it be..... No I'm still not too tech savvy with all the web stuff & yes I'm still usually late to get on the bandwagons.... but I'm having a great time being creative, inspiring others & being inspired.
Happy 10th Birthday Two Peas! I wish you many more & I'll be here as long as you are.
2/16/2009 3:51:08 PM | Comments (4) | Send a Message (PeaMail) | Vote for this My Two Peas Story
302 Found
The resource was found at
http://www.twopeasinabucket.com/shop/BLOG/40841/
; you should be redirected automatically.
---
Blog Post
I always felt left out of being able to use all the pretty girly papers out there because I had 2 boys.
Lately I've been having a ball re-living my childhood & being able to get "girly" by scrapping photos from the60's & 70's.
I've even found a great group on the Pub board that hosts weekly challenges to help inspire.
Check out the Flashback Friday's group at
http://www.twopeasinabucket.com/mb.asp?cmd=display&thread_id=2735694]
Here's a couple recent layouts for the challenges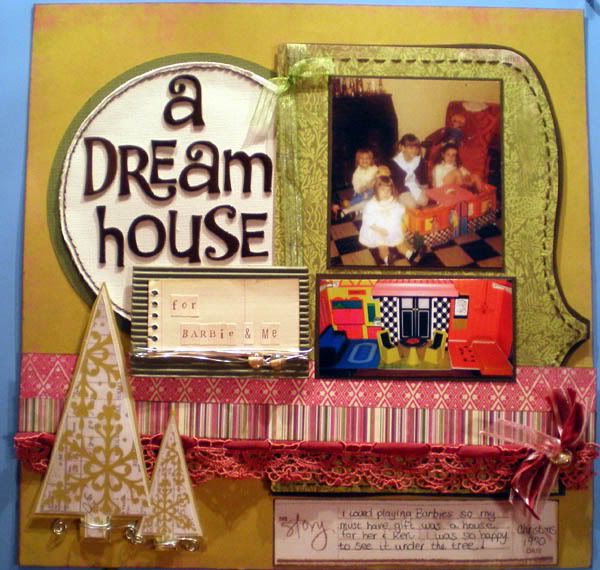 1/29/2009 6:59:59 PM | Comments (1) | Send a Message (PeaMail) | Vote for this Blog Post
302 Found
The resource was found at
http://www.twopeasinabucket.com/shop/BLOG/40629/
; you should be redirected automatically.