Yay! It's time for another Designer Spotlight! And look who we have this week ... it's Greta Hammond (glhammond)!
Q: How long have you been scrapbooking?
A: I started scrapbooking about 8 years ago after my son was born.
Q: Where do you find inspiration?
A: I typically find inspiration in my photos and the story I want to tell. However, I'm not against being pulled in a direction after spying a great new product! Also, I am often renewed by a new product line or a great new color palette seen online, in a store or in a magazine. Inspiration can certainly hit at any time!
Q: If someone was to walk into your scrap room/area right now, what would they find?
A: Oh my ... they would find a BIG mess. As much as I long to be organized, I am a very messy scrapper and tend to pull lots of product out while making a page. Unfortunately, I am not as keen on putting away all that product when I am done!
Q: What do you listen to or watch while scrapbooking?
A: I catch up on t.v. shows while scrapbooking. I normally don't have the patience to just sit and watch t.v. but having it on while scrapbooking works out perfectly.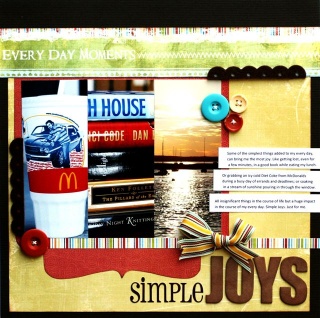 LAYOUT TIPS: I traced a page from the Half Bracket Mixed Media Book onto orange pattern pper and cut it out to make the background for the three photos.
Q: What time of day do you usually scrapbook and where?
A: I don't really have a set time when I scrapbook but I often find the peace and quiet after my kids have gone to bed to be the perfect time for me to create. I have my own room so I can close the door steal away a few hours when the house is quiet.
Q: What type of camera do you use?
A: Canon 30D
Q: What are some other hobbies you enjoy?
A: I love to read. That quiet scrapbooking time after the kids have gone to bed often competes with the pull of a good book!
We hope you've enjoyed this spotlight on Greta! And we hope you come back again tomorrow for some great ideas for using our Mixed Media Books!