This week the lovely Kay Rogers (Kay Rogers) is our designer in the spotlight.
Q: What is your favorite Fancy Pants product?
A: Wow. Only one? Really? OK, the thing I love the most is the papers. The colors, the designs . . . amazing.
Q: What is your favorite technique?
A: I like to ink a lot. I love the look of sewing on a page, but the sewing machine scares me.
Q: How long have you been scrapbooking?
A: I started Scrapbooking when my youngest was turning one, so it's been almost 6 years now.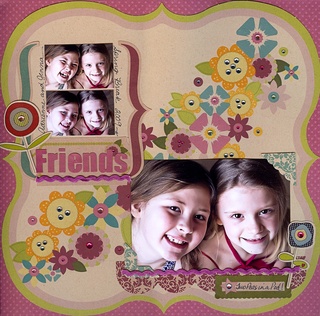 Q: Where do you find inspiration?
A: Everywhere. I buy all of the magazines and look at online galleries in my free time. What inspires me to create a page though is a good picture. A really good picture. That's my starting point each and every time.
Q: If someone was to walk into your scrap room/area right now, what would they find?
A: They would find a relatively clean space. I redid our formal living room into a family room/scrapbook room last summer, and because it's the first room you see when you walk in our house, which means I have to I keep it neat. Plus I am one of those people who has to put away everything from one project before starting another.
Q: What do you listen to or watch while scrapbooking?
A: I am a Gilmore Girls FANATIC. I love that show, and have all seven seasons on DVD. So I usually have my little portable DVD player going on my scrap table and listen to the girls. I'm not a big music person while I scrap.
Q: What time of day do you usually scrapbook and where?
A: During the summer I scrap early morning before everyone is awake and late at night once everyone is asleep. During the school year it's whenever I get a spare moment, mostly weekends at night. I scrap in my scrap space, but in the summer, I sometimes drag everything out onto our sun porch.
Q: What type of camera do you use?
A: I have a Canon 40D and am in love with it. I just got the 24-70L lens, and I am amazed at the clarity of my photography now.
Thanks Kay! We love getting to know you better.