If you loved last week's Product Spotlight featuring our That Boy Kraft Kuts, we have more for you! Check out our This Girl Kraft Kuts, perfect for all of those sweet girl layouts and projects.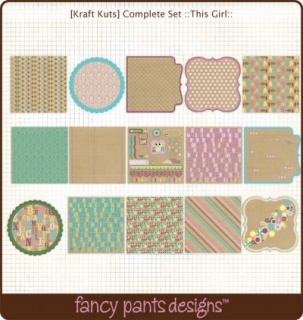 My Princess by Brenda Hurd (mammascrapper)
Brenda used the Dots Bracket, Pink Alpha Stickers, and some of the Embellish Girl Stickers (flower circle, tag and borders). I love the pattern on pattern look of the borders below her photo.


Break Some Hearts by Greta Hammond (gretahammond)
Greta used the Fancy Paper as her background and the Girl Journal to feature her title for this layout about her adorable daughter.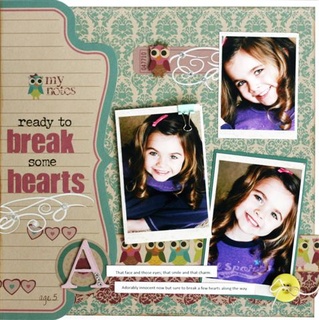 Love You by Greta Hammond
Greta used the leftover Girl Journal from her layout above to create this pretty card.


Hey Girl by Greta Hammond
This cute card features our Owl Paper.


Hi by Greta Hammond
Aren't those owls a hoot?! They are included in the Embellish Girl Stickers.


Bloom and Grow by Kay Rogers (Kay Rogers)
Kay used the Ledger, Fairy Forest and Dotted Girl. Look at how great they coordinate with the tree and sun from our last Kraft Kuts release (Kraft Kuts 2 Die Cuts).


2 Peas In A Pod by Amy Peterman (amypeterman)
Amy used Fairy Forest and some of theEmbellish Girl Stickers (tag, label and border) to create this layout about her daughter and her niece.


She's My Wildflower by Staci Taylor (stacitaylor).
I love how Staci cut several flowers from the Floral Bracket and layered them on her layout. What a pretty way to accent her layout about her daughter.


Remember This Day by Vicki Chrisman (Vicki C)
Vicki used Damask Floral as her background and Fancy Paper to create her beautiful 3-dimensional flower on this vintage-looking layout.