This week we introduce you to Ronda Palazzari (HelpMeRonda), another one of our talented designers.
Q: What is your favorite Fancy Pants product?
A: Okay, in totally "Ronda" cheesy fashion, I love the variety of Fancy Pants products. It is hard to narrow it down to just one. I am a girl who likes change. But if you want me to narrow it down: the BAG-O-TAGS. Next might be Celebrate line or Ball trim.

Q: What is your favorite technique?
A: I am a technique-y kind of girl so I use lots of techniques. Right now my favorite technique might be sewing on a page, hand cutting paper and painting.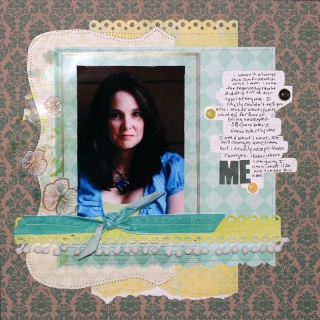 Q: How long have you been scrapbooking?
A: A long time … sticker sneezes, triangles in the corners, and lots of white space.
Q: What kind of scrapper would you consider yourself to be?
A: An artsy, lots of layers, one photo to multiple photo kind of gal.
Q: What are some goals you have for yourself, scrap-related or personal?
A: Personal goals … speaking fluent Italian, traveling more, and to make the perfect dessert. I have to make lots of different ones to find the perfect one.
Q: Where do you find inspiration?
A: Everywhere, a story to be told, a photograph, a home décor magazine, ads, clothing, other scrappers, colors I see.
Q: What is the most unique topic/photos that you have scrapbooked?
A: Me crying … a hard place to be, so much going on, and I happened to grab my camera, photographed it and then scrapped those emotions. I think for me that nothing is off limits. I am willing to scrap anything, especially emotions.
Q: If someone was to walk into your scrap room/area right now, what would they find?
A: A MESS. A big fat mess. Plus the most amazing shelves and table my husband built for me. I have a nice size room with lots of open shelving, too much stuff, and an awesome view of the rocky mountains.
Q: What do you listen to or watch while scrapbooking?
A: Music … lots and lots of music. Always have my tunes playing. Some of my favorites right now are Rise Against, Arcade Fire, Ingrid Michaelson, O.A.R, Muse. I have a couple different playlists that I rotate between.
Q: What time of day do you usually scrapbook and where?
A: It changes but mostly during the day while my kids are at school or at night when they go to bed. I have been known to be up late scrapping with my friends.
Q: What type of camera do you use?
A: Canon Digital Rebel XTI with a 50mm/1.4 fixed lens.
Q: What are some other hobbies you enjoy?
A: Photography, sewing, knitting & crocheting, general crafting, and reading.
Q: Share something quirky about yourself.
A: I am obsessed with rainbow order, even my clothes are arranged in that way.
Thanks Ronda!