Welcome to the Chatty Scrappers Thread...we are so glad you're here! We are a chatty group of ladies who enjoy sharing our projects with the group and encouraging each other by praising each others projects. We will post a few challenges each month and we would love for you to join in and participate on those challenges or to post any of your projects to the thread to share them with the group. Please feel free to jump in and join our wonderful group of ladies!
Color Challenge by Diana
Use this photo as inspiration to create a project using these colors: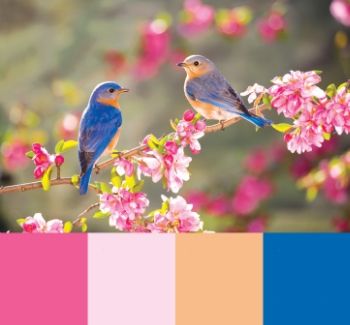 Digi Challenge by Debi
March is here....St Paddy's Day, Easter, and hopefully the beginning of flowers popping up. So for the digi challenge this month I want you to include
1. the color green
2. pastel colors
3. circle or oval shape element(s)
and 4. use stacked frames.
For DIGI ONLY DESIGNERS:.add a masked/blended paper .
For PAPER SCRAPPERS, add torn paper
And remember, just because I dabble in digi doesn't mean you have to. Paper, Hybrid or Digital projects are all welcome.
Sketch Challenge by Toni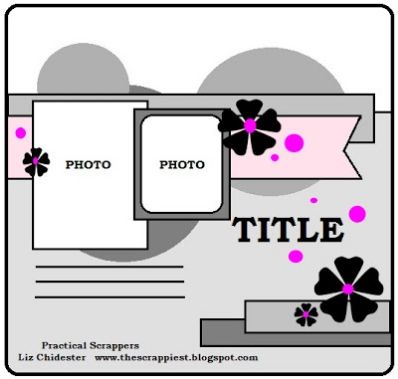 Technique challenge by Monica
This month's technique challenge is to try the resist technique! There are many different ways to do this. You can stamp an image, emboss it with white or clear embossing powder, then ink or mist over it and wipe away the excess. You can draw with a white crayon and mist or ink over it. Don't forget that there are a bunch of products out there that make this easy - Heidi Swapp makes several items in her "Color Magic" line!
And a new one I tried in my sample - "draw" with Glossy Accents, let it dry, then mist or ink over it. Make sure to use a baby wipe or paper towel to wipe away the excess. I've found these all work best with white cardstock as a background so the resist image shows through.
Here, you can see I drew my own polka dots with Glossy Accents and misted over it with Heidi Swapp color shine:
Example
Thanks so much for playing along! We gladly welcome new friends, so feel free to join us.